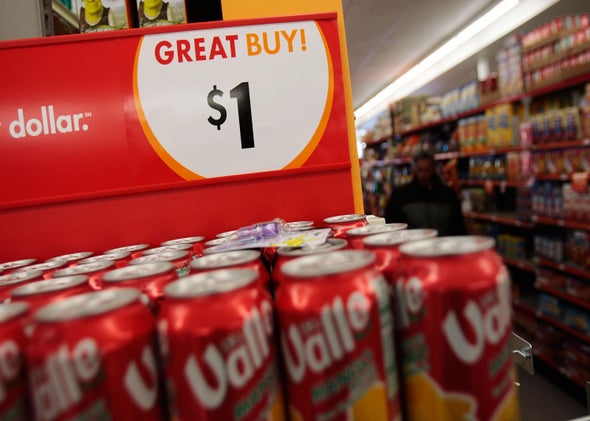 The summer and fall of 2014 were the seasons of dollar drama. First, Dollar Tree said it was buying its bigger but less profitable competitor, Family Dollar, for about $8.5 billion. Then, Dollar General, the biggest of the ultra-cheap U.S. chains upped that bid with an $8.9 billion offer. But Family Dollar just wasn't into Dollar General that way and rebuffed it twice. So Dollar General went hostile and took a new $9.1 billion offer directly to Family Dollar's shareholders.
The Barbarians were totally storming the canned tuna aisle.

Anyway. Fast-forward to 2015, and the makings of a truly great financial saga crumbled when Family Dollar shareholders resoundingly approved the company's $8.5-billion sale to Dollar Tree, ending Dollar General's quest only a few months after it really began. That was in late January. A little more than a month later, Dollar General is on the rebound. The company on Thursday said it in its quarterly report that it will accelerate its rollout of new stores this year and the next to better compete with its newly merged rival. In 2015, Dollar General plans to grow its square footage by 6 percent with 730 new stores. The following year, it aims to increase that square footage by another 7 percent with 900 new stores.
"Our No. 1 priority in terms of investing is investing in our stores, store growth and then having the infrastructure in place to support that," David Tehle, Dollar General's chief financial officer, said on the earnings call. "We're growing stores at a greater rate now than we have probably any time in the history of the company as we move forward into 2016, at least in the modern history of the company."
Dollar stores are a roughly $48.2 billion market in the U.S. and projected to grow 18 percent over the next five years. They boomed during the recession and in its wake as Americans on tight budgets looked for cheap shopping options but fell on hard times as the economy slowly picked up again. The government's $8.6 billion cut to food-stamp spending further weakened traffic to stores (an estimated 40 percent of dollar store customers rely on some kind of government aid).
Still, on Thursday, Dollar General CEO Richard Dreiling seemed upbeat about the chain's prospects for this year and the next. Macro-trends are looking good. Consumer sentiment is broadly improving. The jobs market is chugging along at a healthy pace. "Looking ahead to 2015, we are cautiously optimistic for our core customer," Dreiling said. With 730 new stores on the way, that's probably a good thing.

---