Has there ever been a moment when becoming a humanities Ph.D. was an especially rational career choice? Probably not. Like, I sincerely doubt anybody in the past 35 years has gone into German studies because they were looking for a stable paycheck. But with that caveat in hand, the academic employment market is still stuck in a particularly rotten rut from which it shows no particular signs of emerging. This month, the American Academy of Arts & Sciences analyzed the number of job postings in various disciplines, from English to religious studies. All of them were still far below their heights of 2008.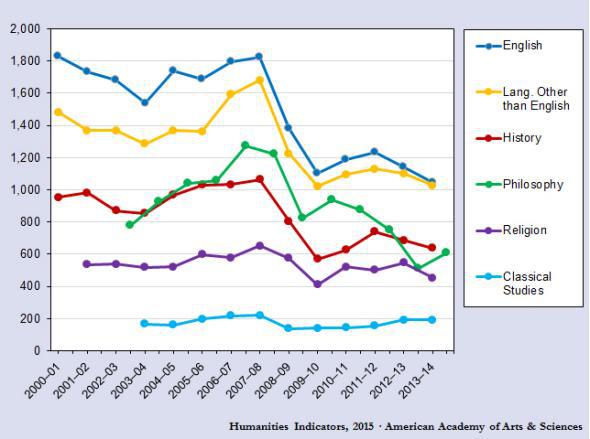 The academy does urge some "caution" in interpreting these figures, which provide a somewhat imprecise picture of the job market. Schools don't necessarily advertise all of their positions with the major academic societies, for instance, and some jobs are posted multiple times and in different places. However, economist Ronald Ehrenberg notes new research suggesting that, yes, the ads are probably a decent barometer for the health of academic hiring. Which, of course, is bad news.  
Other indicators are equally disconcerting. Last summer, I posted this graph, based on the National Science Foundation's Survey of Earned Doctorates, showing that in 2012 just 56 percent of humanities Ph.D. recipients had secured a job or post-doc offer by graduation. In 2013, it looks like that number actually fell to about 54 percent. We don't know what the balance of full- and part-time jobs was in both years, but again, the trend isn't promising.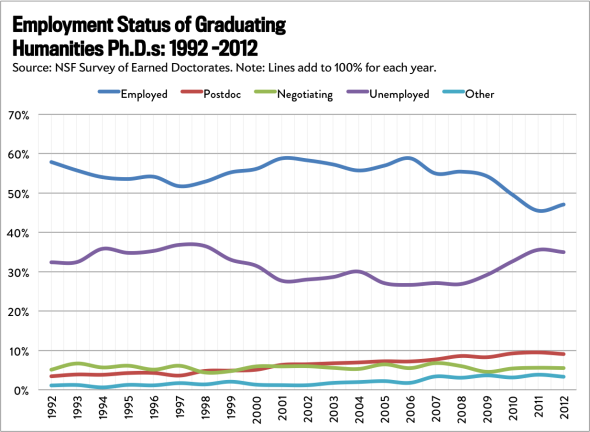 There are very obvious reasons why hiring would still be so sparse. Particularly, states slashed higher-education spending during the recession and have yet to restore the cuts. Without government spending, the number of new jobs in English or history probably isn't going to recover. 
And yet, campuses keep churning out larger classes of humanities grad students. While jobs might be down from 2008, the number of new doctorate holders in most fields is up. If you've wondered why some adjunct professors are basically getting paid Walmart wages these days, that's your fundamental answer. When it comes to academic talent, there's lots of supply, and evidently not a great deal of demand.