Let's play startup Mad Libs for a second: "By integrating [noun] with [noun] and our large network of [plural noun], we've created the [adjective], most [adjective], seamless and scalable [adjective] delivery solution for e-commerce companies." If you filled in "delivery," "ridesharing," "drivers," "fastest," "affordable," and "same-day," then congratulations! You have just come up with the "People + Packages" plan that Uber competitor Sidecar is declaring the "future of same-day delivery."
Sidecar, a San Francisco–based carpooling company, said Tuesday that it is combining rides for people with rides for stuff in a push to grow its budding same-day-delivery service nationwide. The idea is that Sidecar will work with e-commerce companies—for example, Eat24, an online food-ordering service similar to Seamless and GrubHub—to facilitate its ultra-fast deliveries. Or, in other words, the next thing you "share" a ride with could be someone's Chinese dinner.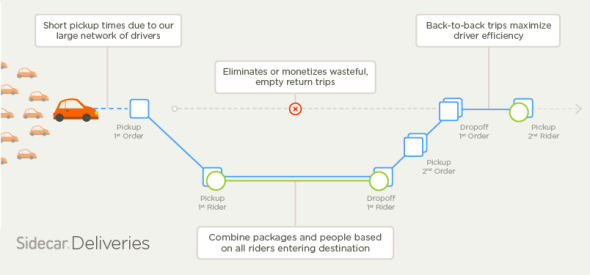 That on-demand ride companies are turning their attention from moving people to moving things isn't exactly new news. Over the past year, Uber has begun testing a litany of logistical services, including UberRush, Uber Corner Store, and UberFresh. Travis Kalanick, Uber's CEO, has said that Uber's true value proposition lies in its ability to execute near-instantaneous deliveries. "If we can get you a car in five minutes," he told Kara Swisher in December, "we can get you anything in five minutes." In recent months, big companies like Amazon and Google have also stepped up their investments in same-day and even one-hour delivery options.
Unlike Uber's services, which are fairly obviously Uber-branded, customers getting their deliveries through Sidecar won't necessarily know that's who's responsible. "Our view is that the delivery consumer relationship belongs to our partners, and not to us," says Sunil Paul, Sidecar's chief executive. And at least for now, Sidecar passengers shouldn't expect to have deliveries interrupt their trips. "The way we're doing it today is the passenger is never inconvenienced," Paul says. "It goes back to people are the most delicate packages there are." Presumably it will be up to Sidecar's algorithm to make things happen in the right order.

Sidecar says that delivery already accounts for 10 percent of the rides it conducts in San Francisco and could make up half its business by the end of 2015. By tossing together people and packages, Sidecar claims it has also been able to streamline the delivery process—keeping it fast and relatively affordable—while providing more work and potential earnings for drivers. Since Eat24 partnered with Sidecar, the company adds, Eat24's delivery times have been cut almost in half. (In related news, Yelp said Tuesday that it had acquired Eat24 for $134 million. A spokesman for Yelp declined to comment on any potential relationship between Sidecar and Yelp.)
By the end of the year, Sidecar plans to make delivery available in all of its current cities (many in California, as well as Boston, Chicago, Seattle, Washington, D.C., and Charlotte, North Carolina) and to roll out in some new ones. Paul declined to reveal what Sidecar charges for delivery, but said that its rates are about one-third to one-fifth of traditional same-day delivery fees, which he added range from $20 to $35 per delivery. Make of that what you will. And if you use Sidecar, prepare yourself for the scent of takeout accompanying commutes.