Update, Feb. 2, 2015, 6 p.m.: The New York Stock Exchange has suspended trading of RadioShack's stock, effective immediately, and says it has begun the process of delisting RadioShack's shares from the exchange. 

Every once in a while it's fun to ask: How is RadioShack still in business? Back in June, the consumer electronics company began trading for pennies on the New York Stock Exchange, and an analyst declared there was "no recovery in sight." In September, RadioShack admitted in a filing, "we may not have enough cash and working capital to fund our operations beyond the very near term." And since December, the stock has been trading for less than $0.50 a share. It fell another 13 percent (or a whole 4 cents!) to close at a dismal $0.24 on Monday.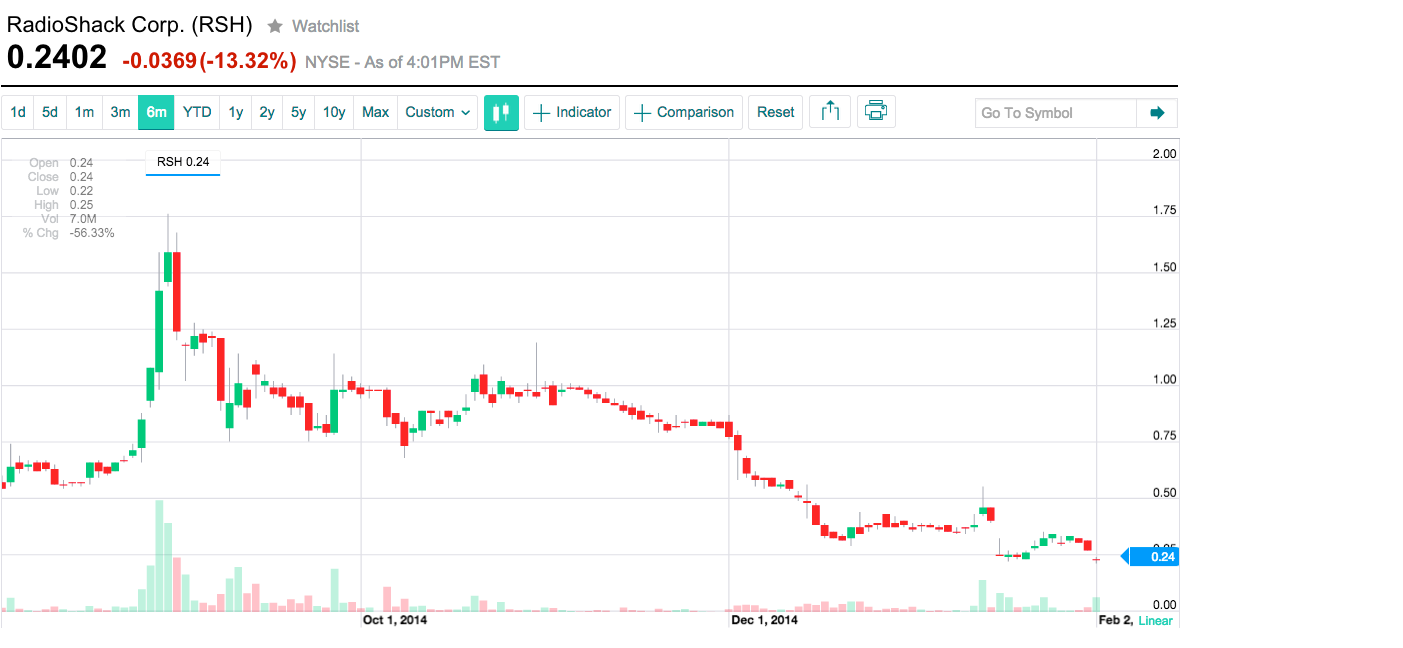 Now, according to Bloomberg, the end might actually, finally be nigh for the beleaguered retailer. The company is reportedly preparing to sell half its stores to Sprint and shutter the rest of its locations as part of a yet-to-be-reached bankruptcy deal. The leases sold to Sprint would be run under the Sprint name, which means that RadioShack would be no more—quietly disappearing from the retail world.
RadioShack began in 1921 as a retail store and a mail-order business based out of Boston to "serve the needs of radio officers aboard ships," the company says on its website. For a long time, it was a go-to destination for a wide range of gadgets and consumer devices, as well as the odds and ends needed to repair broken electronics. But in the era of one-stop shopping destinations (physical and online) like Walmart and Amazon, RadioShack has increasingly struggled to hold its ground.
So let's be clear: If and when RadioShack does eventually liquidate or otherwise vanish from America's retail landscape, just about no one will be surprised. As Bloomberg editor Nick Turner helpfully noted on Twitter earlier today, the often clairvoyant Onion has been predicting RadioShack's downfall since 2007.