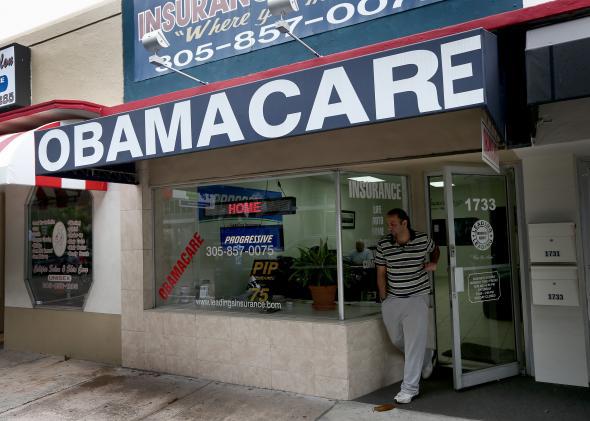 Just days after the annual Feb. 15 deadline to sign up for Obamacare expired, the government said it will create a special enrollment period to give another chance to the millions of Americans who didn't know they could suffer tax penalties for not purchasing health insurance.
The Obama administration said Friday that it will reopen sign-ups for uninsured consumers living in one of the 37 states with federal health-care exchanges from March 15 to April 30. After that, people who have failed to purchase insurance (or, of course, failed to get coverage another way) will have to pay a minimum penalty of $325 or 2 percent of their annual household income—whichever is greater. That's significantly more than the 2014 penalty, which started at $95 or 1 percent of annual household income.
It is unclear how many people the special enrollment period will affect, but the Treasury Department has projected that up to 6 million (3 to 5 percent of tax filers) might face a penalty for being uninsured in 2014. Before Friday's announcement, Democrats and Obamacare advocates had been pushing for an extended enrollment period on fears that people who are only becoming aware of the uninsured penalty as they file their taxes now and in coming months would also be too late to avoid it in 2015.
"We recognize that this is the first tax filing season where consumers may have to pay a fee or claim an exemption for not having health insurance coverage," Marilyn Tavenner, one of the main Obama administration officials overseeing the health care exchanges, said in a statement. "Our priority is to make sure consumers understand the new requirement to enroll in health coverage and to provide those who were not aware or did not understand the requirement with an opportunity to enroll in affordable coverage this year."
A survey conducted in December found that roughly 4 in 10 uninsured adults who could be affected by the penalty said they had heard "little" or "nothing" about it, while a little over half had heard "some or a lot."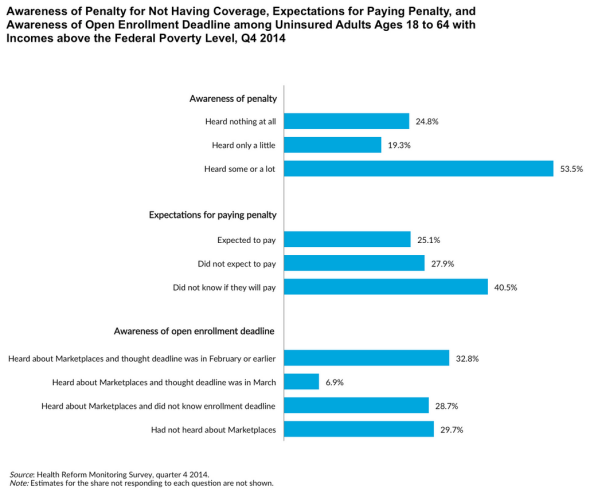 To be eligible for the special enrollment period, officials say consumers will need to "attest" to having paid the uninsured penalty in their 2014 tax return, and to becoming aware of that penalty while readying their taxes. We've reached out to the U.S. Department of Health and Human Services to clarify what, exactly, "attest" means in this context, and will update this post if they respond.
In related news, the Obama administration also said Friday that it sent incorrect tax information to about 800,000 healthcare.gov consumers. Most of the recipients have yet to file their paperwork, and they are being advised to hold off on doing so until new, accurate forms are sent along.

---