Get exuberant, people. The United States added 257,000 jobs in January, according to the Bureau of Labor Statistics, beating economists' predictions and continuing the momentum of the past several months that has everybody feeling fairly sunny about the economy. Better yet: The unemployment rate edged up slightly to 5.7 percent, as more Americans returned to the labor force in order to look for work. It's just one month, but hiring may have been strong enough for long enough to convince people who had given up on finding a job to give it a new shot. Economist Justin Wolfers—Twitter's jobs-day guru—can only marvel:
About those wages: Hourly earnings, not adjusted for inflation, were up just 2.2 percent year over year, which ordinarily would be fairly forgettable growth. But since the U.S. has seen some deflation in recent months due to declining gas prices, those raises are much more valuable. 

Finally, the BLS released its annual benchmark revisions, which re-estimate the previous year's jobs data based on refined survey data about the number and types of businesses running in the U.S. Long story short: We added a few more jobs than previously thought in 2014. Here's what the monthly trend looked like: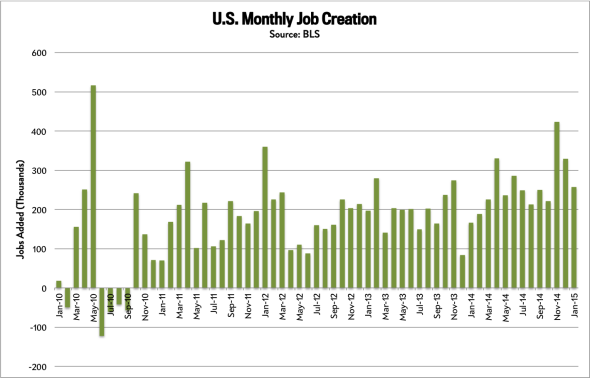 Meanwhile, as Bloomberg notes, the U.S. has added an average of 336,000 jobs over the past three months, the best gain for that length of time since 1997. In part, that's because November's total was revised up to a monumental 423,000 new jobs. Here's the rolling three-month average graphed. Just look at that little orange line take off: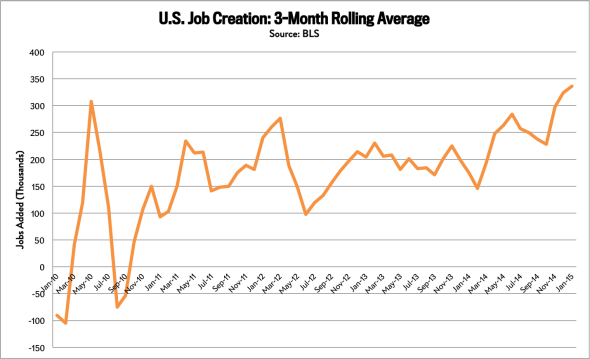 So can this good news last? It's always hard to say. But it certainly feels like we're reaching a nice, self-reinforcing cycle of employment growth. Employers are hiring. People are feeling good about their finances and spending. And employers are hiring more. Keep it up, America.