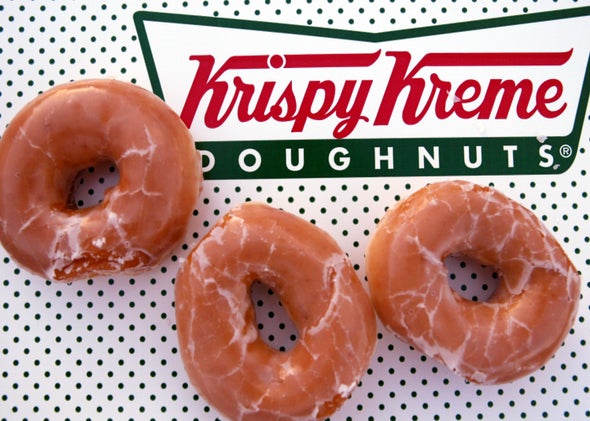 Guys, free calories! Actually, though, of the sugary, glazed variety. To mark the opening of its 1,000th store in Kansas City, Kansas, Krispy Kreme is giving out one free original glazed doughnut to the first 1,000 customers at each of its locations. "No purchase necessary," the company advises, so this really is free.
While free doughnuts are always pretty exciting, this marketing stunt doesn't quite have the punch of Krispy Kreme's last advertising endeavor, in which it stuffed 2,400 Krispy Kreme doughtnuts, or a half-million calories, into a single, heart-stopping box. They called that the Double Hundred Dozen. The entire package measured 11.4 feet by 3 feet and took eight workers to deliver (though what, exactly, it weighed remains unknown). It would have been cool to commemorate the 1,000th Krispy Kreme store with 1,000 Double Hundred Dozens, but that's a lot of doughnuts.
Krispy Kreme is due to report its fourth-quarter earnings in mid-March. In the prior quarter, the company said sales at stores open at least a year rose 3.7 percent domestically but declined by almost 3 percent internationally. As for today? Its stock is up 1.9 percent so far. Wall Street apparently likes free doughnuts.

---