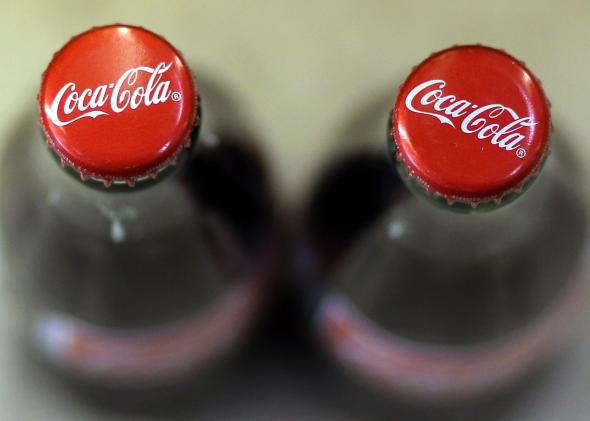 Pity the company whose most iconic and cherished product also becomes one of its least popular. That's the reality for Coca Cola and PepsiCo, whose customers have grown disillusioned with the sodas they once loved so much. On Tuesday, Coke said its profit in the fourth quarter of 2014 tumbled 55 percent from the previous year on lackluster demand for sugary and diet soft drinks. And on Wednesday morning, Pepsi reported a 24 percent decline in year-over-year earnings for the same period.
That Pepsi's profit numbers were not so dismal as Coke's is likely because Pepsi has been bolstered by its Frito-Lay snack division. Over the previous quarter, sales of Frito-Lay products increased 3 percent in North America while carbonated soft drink volume there fell 2 percent. "Frito-Lay, obviously, we did see good performance in the quarter," Hugh Johnston, PepsiCo's chief financial officer, said on the company's earnings call. "We expect continued momentum out of Frito-Lay." At Coke, volume of sparkling beverages grew only 1 percent in the more recent quarter and for the full year, compared with4 percent full-year growth in still beverages (driven by demand for sports drinks, ready-made tea, and bottled water).
That we aren't drinking Coke and Pepsi at the rates we used to isn't surprising. People are more worried about sugar content and obesity. The U.S. Food and Drug Administration has proposed major changes to nutrition labels. This time last year, an industry analyst told the New York Times that carbonated beverages were "in precipitous decline." In November, Berkeley, California, became the first city in the country to pass a soda tax.
In many ways, the challenges faced by Coke and Pepsi are not unlike those confronting Campbell Soup Co. Late last month, Campbell's announced a major reorganization that essentially shifted its focus away from soup. Campbell's winning products these days are its fresher, healthier options. Its sodium-filled soups are struggling to keep up. In other words, for Campbell's to stay Campbell's, it's learning that it might have to move away from the core products that once really made it Campbell's. If trends in soft drinks continue the way they're going, that's something Coke and Pepsi will have to grapple with, as well.

---