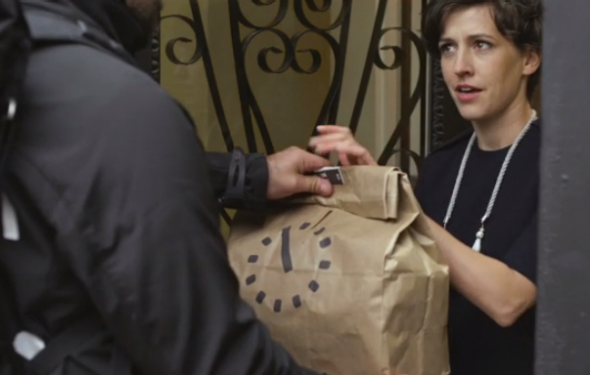 Back in December, Amazon did something remarkable—it delivered body wash and two phone chargers to my colleague Lily Hay Newman in 55 minutes.
Sadly, I wasn't in Slate's New York office that day to witness the feat. And, at the time, I wasn't the only one missing out. Amazon Prime Now, the same-day delivery service that facilitates free two-hour delivery on select items and one-hour delivery for a fee of $7.99, was then limited to the ZIP codes of central Manhattan.
But take note: Amazon Prime Now, as of Tuesday, is available to all of Manhattan. That means that from 6 a.m. to 12 a.m., seven days a week, paper towels and batteries and phone chargers and other necessities ordered through the Prime Now mobile app will appear at the doorstep of Manhattan-dwelling Prime members for free in just two hours, or in 60 minutes or less for a $7.99 fee.
When Amazon first introduced Prime Now in December, the company said it was excited to bring the service to more cities in 2015. Back then and still now, Amazon hasn't shared a timeline for that expansion. But the e-commerce giant is undoubtedly feeling pressure from a growing group of "on-demand economy" startups that, as the label might suggest, have made it their mission to supply everything from rides to food to groceries instantaneously. Just last week, ride-hailing company Sidecar announced it was combining those services into one with "People + Packages," a new initiative that would let the drivers on its platforms transport people and make deliveries of things like Chinese takeout at the same time.
So considering how competitive the on-demand delivery space is getting, it makes sense that Amazon is focusing not just on rolling this service out, but also on making it a perk for Prime members. Amazon's membership program is a pillar of its company, in terms of both values and finances. Amazon prides itself on providing exceptional customer service, and so it's pledged to keep Prime great. But Prime is also a huge source of growth for Amazon—in 2014, its subscribers jumped 53 percent worldwide and 50 percent in the U.S., even as its cost rose by $20. For that kind of growth to continue, Amazon needs to keep Prime great.

And that's the thing—for a long time, Amazon Prime offered free two-day shipping, and that was enough to make it great. Because free two-day shipping used to be revolutionary. Now companies like Uber and Instacart and Sidecar and Seamless have made two hours the new two days.
Amazon, it seems safe to say, has no intention of getting left behind.
---