The candy world lost one of its king confectioners on Tuesday when Melvin Gordon, the longtime chief executive of Tootsie Roll, died at the age of 95 after a brief illness. Gordon's death was announced by the company on Wednesday. His wife, Ellen, who previously served as Tootsie Roll's chief operating officer and president and is in her 80s, will assume the roles of chairman and CEO in accordance with the company's succession plan.
Tootsie Roll under Gordon's leadership, like much of the notoriously secretive and exclusive candy-making world, was a real-life Willy Wonka factory. In a 2012 profile of the company, Wall Street Journal reporter Ben Kesling wrote that at Tootsie Roll's Chicago headquarters, "massive puffs of steam billow out of humming machines on the roofs of the gray cinder block and red buildings, which sit surrounded by off-kilter 'no trespassing' signs." The Gordons, he added, "haven't granted an interview in years," and declined to comment for his piece.
Though Tootsie Roll is a publicly traded company, a few members of the Gordon family control more than 50 percent of its shares. Melvin and Ellen Gordon also reportedly made every effort to keep Tootsie Roll in closely held hands. "We've worked hard to keep suitors away," she told Joël Glenn Brenner in The Emperors of Chocolate: Inside the Secret World of Hershey and Mars. "We want Tootsie to remain independent. Hopefully, our children, or the employees working in the company, will be able to run it someday."
Now that Melvin Gordon has passed away, though, Wall Street seems to think Ellen might change her mind. Trading of Tootsie Roll was temporarily halted to make the announcement around noon, after which its stock popped 7 percent on apparent hopes that it might soon be the target of a takeover bid. In addition to owning the eponymous Tootsie Roll brands, the company sells Dots, Junior Mints, Charleston Chews, Sugar Daddies, and several other confections. "People have felt for some time that the company was a good sell-out candidate," Elliott Schlang, managing director at Great Lakes Review and a former Tootsie Roll analyst, told Bloomberg.*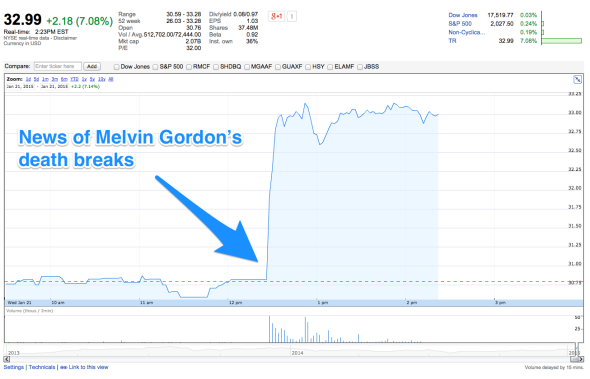 Perhaps the most famous bit of Tootsie Roll branding—the "how many licks?" commercial—came out eight years into Melvin Gordon's stewardship as CEO. The ad, which features a boy asking a cow, a Peter Lorre–esque fox, a turtle, and an owl, "How many licks does it take to get to the Tootsie Roll center of a Tootsie Pop?," debuted in 1970 and became an instant classic. (You can watch it for yourself up top.) Since then, the company says it has received more than 20,000 letters from children claiming to have found the elusive answer to that quandary. Estimates range from a low of 100 licks to a high of 5,800—children are dedicated counters.
The real answer, the company writes on its website, "depends on a variety of factors such as the size of your mouth, the amount of saliva, etc. Basically, the world may never know." Presumably that's Tootsie Roll being facetious. But if Melvin Gordon did have any sort of answer (even a joking one), hopefully he passed it down to the rest of the family, along with all the other Tootsie Roll secrets.
*Correction, Jan. 21, 2015: This post originally misspelled Elliott Schlang's first name.