Right before the new year, the application process for two housing developments in New York City's outer boroughs opened. The result: 92,000 people applied for 924 available affordable apartments at a complex in Queens, and 70,000 people applied for 38 available affordable apartments at a complex in Williamsburg, the Brooklyn neighborhood where one-bedrooms rent for an average of more than $3,000.
The hundreds of thousands of applications that have poured in for New York City's new affordable apartments show just how tight the city's housing market is. Rents rose 11 percent throughout the city between 2005 and 2012. In some places, like Manhattan and northern Brooklyn, the price increases have been even steeper. The average rental price in Manhattan is now more $3,800. In Brooklyn, it's about $2,560.
New York is also nine months into an ambitious plan to build or preserve 200,000 units of affordable housing over 10 years—easily the boldest housing undertaking in the country. (For comparison, the other U.S. city most synonymous with housing crisis these days, San Francisco, only plans on building about 10,000 units of affordable housing by 2020.) "I can't even compare it to what other cities are doing," New York City's deputy mayor for housing and economic development, Alicia Glen, told me last month. "At the risk of sounding like we're the bee's knees … we are the bee's knees. New York City has always, since the beginning of time, been the place where the most interesting housing policy and programs have happened."
Glen is right, at least when comparing New York with the rest of the U.S. Public housing got its start in New York, and the city is now home to the most government-subsidized units in the nation. Still, more than half of New Yorkers are "rent-burdened," meaning they pay more than 30 percent of their incomes on rent. And prices keep rising. Even if the city preserves and builds those 200,000 units, that will still leaves millions scraping by.
Like New York, cities across the country are losing affordable housing at a faster clip than they can reasonably hope to preserve or build it. If one of the most ambitious housing plans in the U.S. can't create even a fraction of the affordable housing a city needs, that doesn't bode well for places like San Francisco, Austin, and anywhere else where housing demand is outpacing supply. And it exposes why, for reasons largely outside of local officials' control, shrinking affordable housing in American cities remains an almost impossible problem to solve, at least without something that may be utterly impossible right now: an ambitious national housing policy.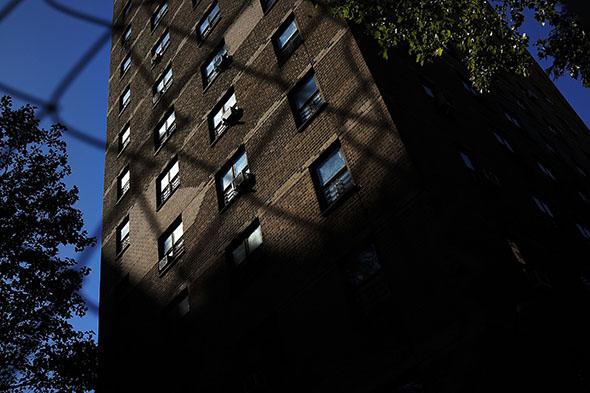 New York may provide one of the most extreme examples of the affordable housing crisis in the country, but it's not anomalous. The need for a radically rethought national housing policy, and the dollars to back it up, is felt in every city. A recent analysis of Zillow data found that in 90 cities across the country, median rents are more than 30 percent of median household incomes. The underlying factors behind the rapid increase in rental prices are largely out of the control of cities. The entry of large banks and private equity firms into the rental market has meant each housing market has less competition, driving prices higher. That, combined with the reversal of decadeslong white flight from cities, means there's more demand for rental housing than ever.
Those factors aren't exclusive to America. But skyrocketing rents combined with a lack of a concerted national effort to do something about them aren't the rule everywhere. In places like Hong Kong and Sweden, the right to affordable housing isn't a controversial political sentiment. Of course, smaller polities with more centralized governments make it easier to institute stringent rent regulations and build more government housing than it would be in the U.S.
But that doesn't mean we shouldn't try for a much more ambitious national policy. New York's crisis shows that even the most progressive policies fall well short of what's needed, despite what Mayor Bill de Blasio's plan gets right. Its inclusionary zoning mandate means that whenever a developer wants to go beyond a neighborhood's usual zoning limits and build bigger, it'll also have to include a certain percentage of low- and moderate-income housing (usually somewhere around 20 percent of the building's total, and sometimes higher). The city will also spend billions of its own money constructing housing for low-income New Yorkers and offer incentives to landlords to keep rents lower, even as apartments exit rent stabilization.
But preventing 120,000 units of affordable housing from becoming unaffordable and building another 80,000 through inclusionary zoning and other programs will still leave New York in a housing crunch. And there's a chance New York's affordability crisis will be even worse by the time those 200,000 units are preserved or built.
The last few months have brought a slew of bad news. In September, one of the largest middle-class housing projects in Manhattan decided to leave Mitchell-Lama, a program started in 1955 that offered tax incentives to encourage developers to create middle-income housing. Southbridge Towers' exit from the program means the 1,651 families that bought there for an average of $17,500 will soon be able to sell them for several hundred thousand dollars more. And when they do, Manhattan will lose that many affordable units. In December, the owner of a Mitchell-Lama development in East Harlem with rental prices under $1,000 also announced his intention to leave the program.
Last month, the New York City Housing Authority, facing an $18 billion shortfall for needed repairs, said it would sell a 50 percent stake in 900 Section 8 apartments to private developers in exchange for a quick cash infusion. While NYCHA will still maintain control of the apartments for 30 years, Tom Angotti, a public housing advocate and urban affairs professor at Hunter College, calls it "the first stage of the privatization of public housing." (Glen insists it's not.)
De Blasio's predecessor, Michael Bloomberg, had a goal of creating or preserving 165,000 affordable houses in New York. But under his tenure, there were more affordable apartments lost than gained. If enough apartments leave rent regulation and Mitchell-Lama under de Blasio, he might face a similarly mixed legacy.
Other cities give little reason for optimism. Atlanta demolished its remaining 14,000 public housing units in 2011; New Orleans demolished 4,500 units after Hurricane Katrina; and Chicago took down the remaining building at Cabrini-Green, which used to house 15,000 residents, in 2011. The country lost 99,000 public housing units between 2000 and 2008. Nationally, while housing costs have dropped since the Great Recession, more than 25 percent of renters are still "severely burdened," spending more than 50 percent of their incomes on housing.
Unfortunately, the most effective way to stem the housing crisis—a commitment of billions of dollars to public and subsidized housing from the Department of Housing and Urban Development—is out of the control of mayors. "We have a very comprehensive and strategic plan," Glen says. "But we also need to add more tools to our tool box."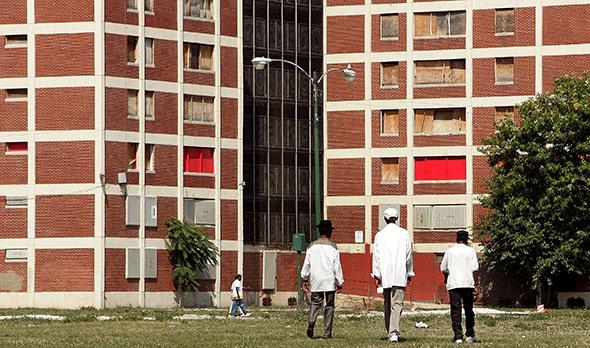 The housing policies that made life better for poor people in the U.S. were all implemented when there was an abundance of political will for doing good by the poor—and the money to back that sentiment up. In 1942, President Franklin Roosevelt signed the Emergency Price Control Act, which allowed the federal government to regulate rents for the first time. Roosevelt said the act was "an important Weapon in our armory against the onslaught of the Axis powers. Nothing could better serve the purposes of our enemies than that we should become the victims of inflation." It's hard to imagine politicians arguing affordability would help us fight ISIS today.
While the city was behind the creation of the housing projects that now house 420,000 New Yorkers, that unprecedented building effort was funded almost completely by the federal government. A city, even a rich one like New York, didn't have enough money then and doesn't have enough now to accomplish such a feat on its own. These days, the federal government doesn't even provide enough for money for the city's housing authority to keep up its current stock, much less build new apartments.
(New York has an additional handicap: It no longer controls its rent-control laws. That's the job of New York's notoriously corrupt legislature—and many of its members are bankrolled by the real estate industry.)
As far as U.S. housing policy goes, you won't find a better one than New York's. But as the city's affordability crisis shows, the best in the U.S. isn't good enough. If New York, and every other city, wants to build a truly equitable housing system, it might have to look abroad.
Last month, Hong Kong announced it would add 480,000 apartment units to the already densely packed city over the next decade. Incredibly, officials said, about 60 percent of them will be subsidized by the government. Even with Hong Kong's huge public housing supply, housing minister Anthony Cheung believes there can be even more and has pointed to Singapore, where 82 percent of housing is government-supported, as a model.
Of course, instituting semisocialist housing policy in the U.S., even in a city like New York, would be more difficult than instituting it in cities like Singapore or Hong Kong, where politicians don't have to deal with a do-nothing Congress or corrupt state legislature to get things done. But other countries and cities with styles of government closer to those in New York are proving equitable housing is possible. More than half of rental housing in Sweden is government-subsidized. Even in comparatively conservative Britain, about 30 percent of its housing stock is government-subsidized.
This spring, New York City's rent-control laws are set to expire, and de Blasio will have to push Albany legislators to renew or strengthen them. That'll be his first real opportunity to prove he's willing to use his bully pulpit to draw state, and perhaps national, attention that will elevate our national discussion of affordable housing.
It may not seem like the perfect time to push a boldly progressive national agenda, particularly on housing. But we've never needed one more.