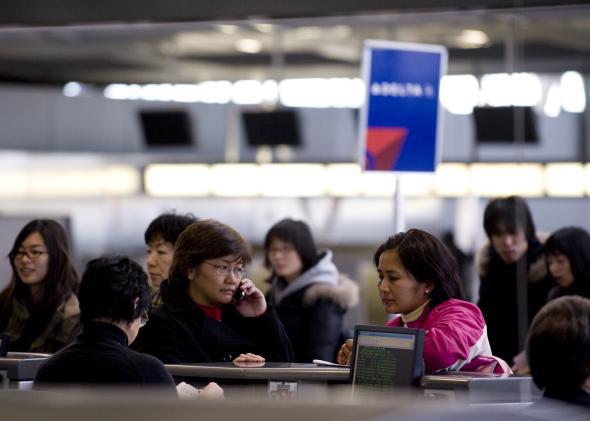 It's pretty common for airlines to oversell their flights as a hedge against last-minute no-shows. But sometimes, that usually savvy plan backfires. Like on Thursday morning, when Delta found itself looking at a pair of extremely overbooked flights from New York's John F. Kennedy International Airport to Salt Lake City—presumably carrying passengers headed to the Sundance Film Festival—and began scrambling to find people willing to accept "Delta dollar" vouchers in exchange for switching to later travel options.
Ultimately, Delta ended up getting more than a dozen people from the two flights to agree to push back their trips in exchange for several hundred dollars in compensation per person, Delta spokesman Anthony Black says. Twelve might not sound like a lot, but in fact it's an extraordinarily high number of denied boardings for just two flights. To give this some context, between January and September of 2014, overbookings kept Delta from boarding about 84,000 passengers compared with 87 million that successfully enplaned. Across U.S. airlines, less than 0.09 percent of passengers were unable to board during the same period, of which an even tinier fraction were involuntary (people forced to move to a different flight as opposed to volunteers who agreed to change for some amount of compensation).
So, in the case of the Sundance flights, was it smart for travelers to accept Delta's vouchers? Well, it depends. In its consumer guide to air travel, the U.S. Department of Transportation notes that overbooking is not illegal but that the consequences for "bumping" passengers depend on whether it is voluntary or involuntary. In the first case, the airline seeks out customers who are willing to give up their seats on one flight in exchange for some sort of compensation. If people volunteer, it's left to the airline and passenger to negotiate what that compensation will be.
In the second, involuntary case, on the other hand, the DOT does set strict rules for how the airline must compensate affected passengers. The rules, which are based on the length of the delay passengers suffer and the price they paid for their ticket, are summarized below. For situations where compensation is required, the DOT specifies that customers are entitled to receive it "in the form of a check or cash":

If the airline forces a passenger off one flight but arranges substitute transportation that reaches the final destination within one hour of the originally scheduled time, then the airline isn't required to provide compensation.
If the alternate transportation is scheduled to get the passenger to his or her destination one to two hours later than originally planned (or one to four hours on international flights) then the airline has to pay that person 200 percent of the initial one-way fare, with a maximum of $650.
If the alternate transportation should get the passenger to their destination more than two hours later than initially planned (or more than four hours for international travel), or if the airline declines to provide alternate travel arrangements, then passengers are entitled to 400 percent of their one-way fare, with a maximum of $1,300.
Delta had five flights today out from JFK to Salt Lake City; three have already left and the next two are at 4 p.m. and 9 p.m. It's tough to know what customers originally paid for their flights to Salt Lake City, but if they'd been forced to switch to another time slot and had arrived several hours late, it's certainly possible that each one would have cost Delta more than several hundred dollars in compensation. On the other hand, Black says Delta doesn't just worry about how much it'll have to pay up when dealing with oversold flights. The goal, he said, is to both compensate customers fairly for their inconvenience and keep the flight queue moving along. Black added that it wasn't immediately clear why those two flights out of JFK were so oversold this morning. But for next year, Delta might want to keep Sundance in the back of its head when it's seriously overselling flights to Salt Lake City.

---