Amazon, the Wall Street darling famous for losing money to make money, has thrown just about everyone for a loop with its fourth-quarter report. That's because for once Amazon didn't miss, hit, or even slightly beat analysts' earnings expectations—it crushed them.
In the latest quarter, Amazon posted net income of $214 million, or earnings of $0.45 per share. Analysts had forecast Jeff Bezos' company would report earnings of $0.17, or a bit more than one-third of the actual. It was the first time Amazon had topped estimates in six quarters. The company posted a small miss on revenue—$29.33 billion versus an expected $29.68 billion, and sales growth was slow—but still. Wall Street was happy. Amazon's stock surged 13 percent from Thursday's close of $311.78 in after-hours trading.
The surprise earnings-per-share beat was a welcome change for investors, who lately had appeared to tire of Amazon's chronic no-profit act. After Amazon posted a third-quarter loss of $437 million in late October, shares sank 11 percent in extended trading. "We have a lot of opportunities in front of us that we've talked about and we're also being selective with those opportunities," Tom Szkutak, Amazon's chief financial officer, said on the Q4 earnings call. "We have added a lot of resources over the last few years, and we've certainly been in a heavy investment cycle." All of a sudden, those investments appear to be paying off.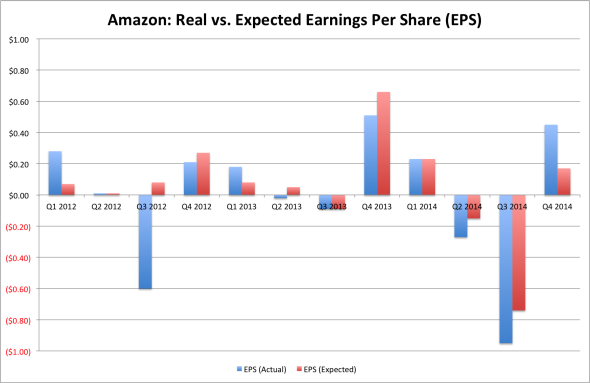 Over the entire last year, Amazon saw subscribers to Amazon Prime, its signature membership program, grow by 53 percent worldwide and 50 percent in the United States. That jump is all the more significant considering that Amazon raised the fee for Prime, which provides free two-day shipping and access to Amazon's streaming music and Kindle library, to $99 from $79 in March 2014. As my colleague Jordan Weissmann argued at the time, even with that $20 price hike an Amazon Prime membership was still a great deal. Looking at the year's subscriber figures, it seems like customers were inclined to agree. "Prime is a one-of-a-kind, all-you-can-eat, physical-digital hybrid," Bezos said in Amazon's earnings release.

For fiscal year 2014, Amazon's sales grew 20 percent to nearly $89 billion, and the company posted a net loss of $241 million, or $0.52 per share.
Amazon is expected to continue investing in Prime for 2015, after pouring billions into Prime shipping and other member benefits in the previous year. It will be interesting to see how the company juggles Prime's traditional offerings with some new and ambitious additions—for example, Amazon Prime Now, a one-hour delivery option that debuted in New York City for $7.99 in December. Amazon has seen increased competition to its delivery business recently as big players like Google and Walmart have beefed up their delivery options, and startups like Uber have also started taking a stab at the space. With the rise of the so-called on-demand economy and platforms like Uber and Seamless, consumers have seemed to favor near-instantaneous service for a premium over slower, cheaper models. That's not to say that two-day delivery is slow—but it might not be the gold standard anymore.
Asked on Amazon's call whether he saw a shift in consumer preferences, Szkutak said he preferred not to think of delivery as a trade-off between price and convenience. "I don't view it as a shift—I view it as there's certainly a lot of visibility and transparency around all of these," he said. "That's what shopping and operating a business online does: There's a lot of transparency, and we like that world."