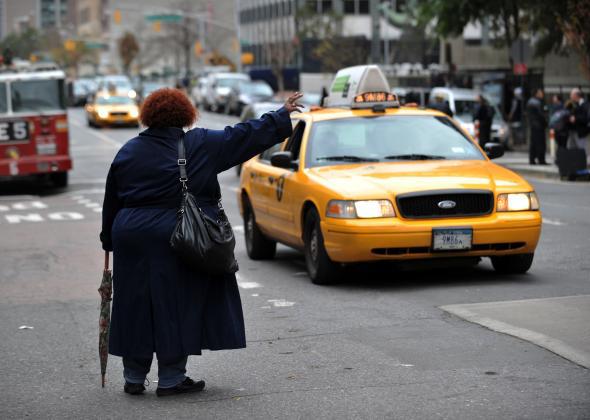 Much has been made of the $1 million New York City taxi medallion—the ticket to operating a yellow cab. When a pair of them sold for more than $2.5 million in November 2013, the New York Times declared that the medallion, once "the emblem of a dream achieved for those who work hard enough to afford it," had become "a striking example of how exclusive some corners of New York have become." The dreams of cabdrivers became the fortunes of wealthy "corporate medallion" owners.
Despite the still-recent entry of on-demand ride services like Uber and Lyft into the New York City taxi market, it looked for a while like medallion demand had remained strong. But then in October, the average price of an individual taxi medallion in the city suddenly fell 17 percent from its peak in spring 2013, to $872,000. Medallion prices are similarly down in Chicago, Boston, and Philadelphia. And according to a recent analysis from the Upshot, even before October, average medallion prices in New York may not have been as high as they seemed.
According to Josh Barro, monthly reports on medallions from the New York City Taxi and Limousine Commission incorrectly stated that average prices for individual medallions had remained mostly flat since hitting $1.05 million in June 2013, when actually they had traded below $1 million for most of the past year. The discrepancies reportedly occurred because the TLC chose to omit from its statistics "any transaction at a price more than $10,000 below the previous month's average":
The commission does so in the name of excluding sales that do not occur at an arm's length—say, between two relatives. When prices are flat or rising, as they generally have been for decades, the methodology can produce a reasonably accurate result. But when prices are falling, the commission's method is guaranteed to mischaracterize the market.
Since that initial Upshot report, the Greater New York Taxi Association has requested an investigation into the "material misrepresentations" in the TLC reports. The TLC, for its part, is denying that the reports have been inaccurate.
Declining taxi medallion prices, while not surprising considering the influx of new ride services, are one of the biggest reasons that taxi lobbies have adamantly opposed services like Uber and Lyft. As Emily Badger reported for Wonkblog earlier this year, taxi medallions have long been the best investment in America. Many taxi drivers have their retirements tied up in medallions they've purchased. As alternative taxi services have grown in popularity and taken market share from cabs—largely to the benefit of consumers—those drivers have seen their life savings fade away.

---