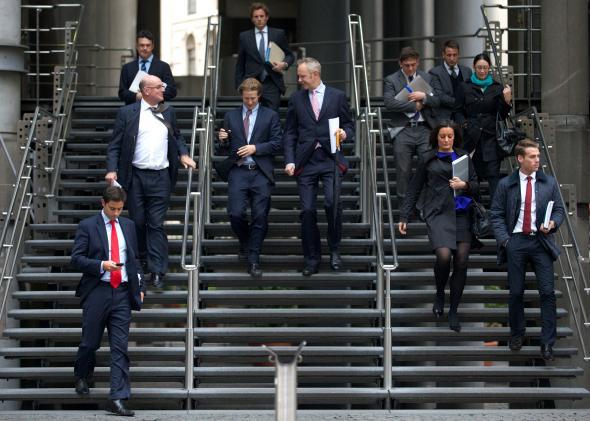 While bonuses on Wall Street are expected to disappoint this year, prospects in London's financial district are looking up. According to a new report from recruitment firm Astbury Marsden, two-thirds of finance professionals in London expect a bonus this year, and 40 percent believe that bonus will top what they were given in 2013. Managing directors and partners in particular have high expectations: to receive average bonuses of £124,680, or $194,610.
Of the 1,468 people who responded to Astbury Marsden's survey, managing directors and partners were the only group that on average expected a bonus in the six-figure range—and one that would be 21 percent higher than the previous year. The next-highest predictions came from the directors and executive directors, who thought they'd see bonuses average around £55,350, or about $86,000.
The sizable bonuses dolled out in finance are a point of contention in the European Union, where regulators have moved to cap the end-of-year payouts. Rules proposed early last year limit bonuses to no more than 100 percent of a banker's salary—or 200 percent, with shareholder approval. Those opposed to the cap have argued that it will only push up the base pay that bankers get. But after an adviser to the EU's top court rejected challenges to the bonus-cap rules late last month, the court itself is expected to follow suit and let the limits stand.
According to Astbury Marsden's survey, the average salary in London finance was up 8 percent in 2014 to £96,458 (about $150,500) and 62 percent of employees got a raise of some kind. As might be expected, men also continued to significantly outearn women in terms of base salary in all but one job tier. The disparity was greatest at the most junior and most senior ends of the job ladder—female analysts/executives earned 74 percent of what men made, and female managing directors/partners 68 percent of it. And as for bonuses? The average for men of all positions was £32,080 or about $50,000. For women, it was barely half that.
---