The last time this few students were starting law school, Nixon was president, Tony Orlando and Dawn were killing it on the charts with "Tie a Yellow Ribbon Round the Ole Oak Tree," and … oh, who cares? The point is, first-year law school enrollment is down to its lowest levels since 1973, according to the American Bar Association's new annual report. Just 37,924 new J.D. candidates enrolled this fall, 28 percent fewer than when the number of new students peaked in 2010. Since then, the ABA has also approved four new law schools, bringing the grand total to 204 (in 1973, there were just 151 schools). So there are more seats to fill, and fewer bodies to fill them.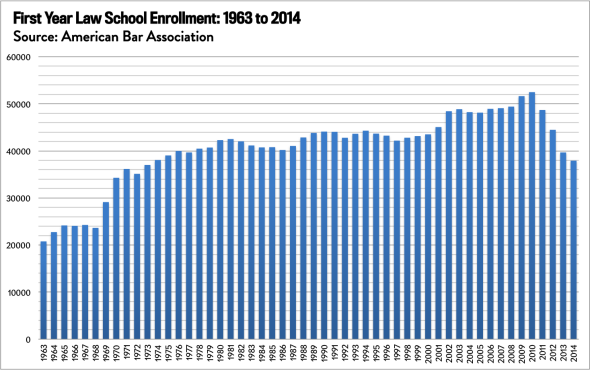 Which brings us to our next delightful stat. There are 186 first-year students per law school this year, down from 262 in 2010. You have to go all the way back to 1968 to find a number that low. Groovy times.
One thing to keep in mind: The enrollment crash hasn't hit every school evenly. The ABA notes that 33 schools saw 1L enrollment increase at least 10 percent. Another 64 schools saw drops greater than 10 percent. So some institutions may be faring fine in this storm. Others are probably drowning.
And in the end, these numbers aren't especially surprising. But they do reinforce two points I've made before. First: This year's new crop of aspiring J.D.'s will likely have a far easier time on the job market than past classes. Second, I really don't see how the legal academy makes it out of this crisis without at least one school closing.