Instagram is the hot startup of the day after landing a whopping $35 billion valuation from analysts at Citigroup this morning. "Using what we believe to be conservative assumptions around user growth and monetization," Citi writes in a new report, "we believe Instagram is worth $35bn—up from the $19bn we had previously estimated." The analysts cite "faster growth in its audience" and "continued monetization gains by social media properties" as two key reasons for the upgrade.
The faster audience growth that Citi's report is talking about refers to a recent announcement from Instagram that it had reached 300 million users. That meant Instagram had added about 100 million users, or expanded its base 50 percent, since the end of the first quarter of 2014. Twitter grew its user base by 29 million, or 11 percent, during the same period. Instagram's news led to many an excited declaration that the photo-sharing site was now bigger than Twitter. Citi's analysts are just the latest to take up the cry. "Given the network effects present in social companies such as Instagram, we believe that Instagram can continue to rapidly add users and expect that the gap in total users between Instagram and Twitter will continue to widen," the report states.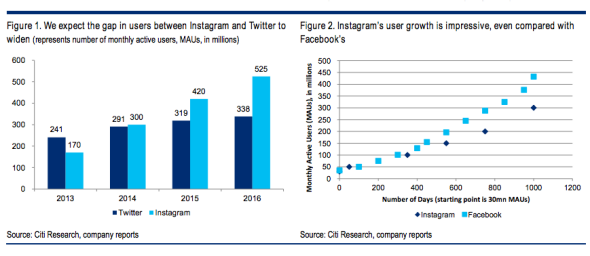 Here's the one big problem with that reasoning: We don't actually know for sure if Instagram is bigger than Twitter. As my colleague Will Oremus noted rightly in Slate last week, comparisons can be misleading:
Instagram is indeed larger than Twitter if you look solely at monthly active users, of whom Twitter has 284 million at last count. MAUs, as they're called, are one useful metric of a social network's size. But they aren't the only one. Others might include the amount of time users spend on the network, the amount of content they post, and the number of people who see that content. Look at those, and it quickly becomes impossible to say whether Instagram or Twitter is larger.
Just because Twitter doesn't have as many monthly active users as Instagram doesn't mean it's not as big. When Twitter's most famous and influential users tweet things, those posts can go viral and reach millions of people who never sign into Twitter's platform. That's partly why Twitter CEO Dick Costolo has been gently pushing analysts toward different types of metrics for evaluating the company's reach. (Again, Oremus went more in-depth on this in his recent piece.) The important point here, though, is that much of Citi's ballooning valuation for Instagram is based on the notion that it has eclipsed, and will continue to surpass, Twitter in terms of total reach. And that just might not be true.
Does this mean the valuation is entirely off? Not necessarily. As the analysts point out, Instagram has great engagement and is building a strong base of advertisers. Since rolling out ads in the U.S. on a test basis in late 2013, Instagram has added well-known brands like Disney, Taco Bell, Coca-Cola, and JetBlue to its roster. In 2014, it launched ads in three other countries—Canada, the United Kingdom, and Australia—with brands including Toyota, Estee Lauder, McDonald's, Cadbury, and Starbucks.
Because Instagram is a visual medium, it's also practically designed for ads to look and perform great. A beautiful photo will almost always be more compelling than a 140-character attempt at wit from a company's marketing department. And like Twitter, Instagram has its own A-list users (although, in related news, teen heartthrob Justin Bieber lost 3.5 million followers in Instagram's recent purge of fake and spam accounts). It's not at all crazy for Citi to see the monetization potential—just worth questioning a $35 billion valuation that seems largely based on comparing apples and oranges.
That said, people have underestimated Instagram before. And those who mocked Facebook for paying $1 billion for it in 2012 probably aren't laughing anymore.