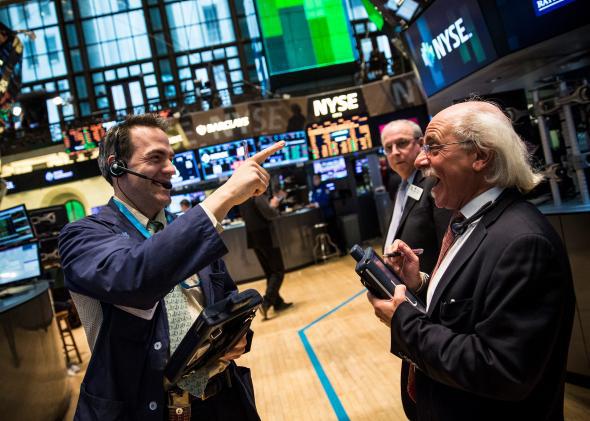 The Dow Jones Industrial Average just had its best day since November 2011. It gained 421.28 points or 2.4 percent, and all 30 of its components rose.
This was the second consecutive huge day for the stock market this week. On Wednesday, the Dow added nearly 300 points and it is up 497.32 points, or 2.9 percent, for the week. The S&P 500 index, a better benchmark of the overall market, also added 2.4 percent on Thursday and is up 2.9 percent for the week. The numbers are sort of hard to read, but you can see the nice upward curve in the Dow and the S&P in the charts from Yahoo! Finance below: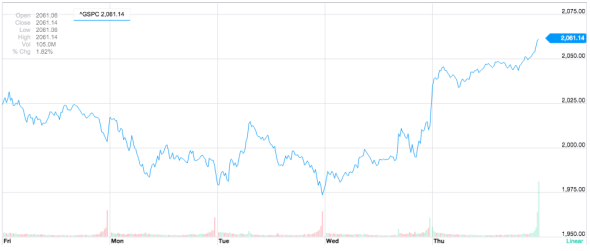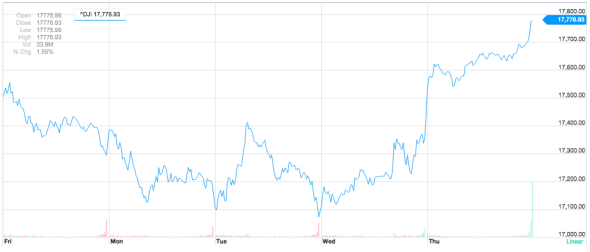 As usual, it's a little hard to say what exactly is spurring such an energetic advance in the market. The Federal Reserve reassured investors on Wednesday after saying it would be "patient" in deciding when to raise interest rates. Tech shares also jumped on strong earnings from Oracle. The Dow's Cisco Systems, Goldman Sachs, IBM, Microsoft, and UnitedHealth Group all posted gains of 3 percent or more. When stocks fall across the board for reasons that can't quite be explained, people tend to point to profit taking. So … for now, we'll call this the opposite of that.

---