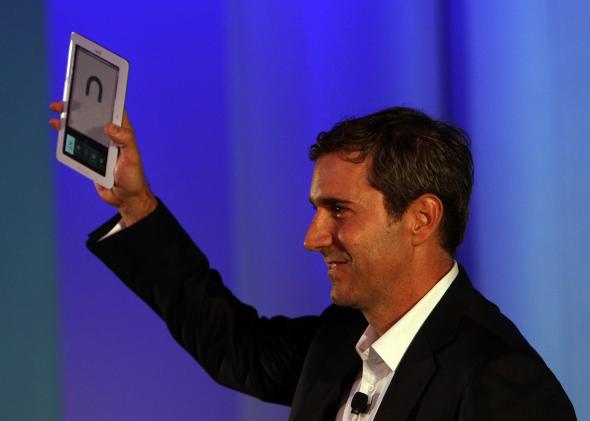 The decline of Barnes & Noble's beleaguered Nook has been slow and steady. The e-reader, first introduced in October 2009 as a response to Amazon's Kindle, stumbled from the get-go. In late June Barnes & Noble announced it would spin off the Nook unit completely. And as a step toward that, the company said Thursday that it has ended a partnership with Microsoft in the Nook business.
Microsoft invested $300 million in Nook in 2012 in exchange for a 17.6 percent stake. Even then, Barnes & Noble was already looking into spinning off the unit, but appeared ready to reconsider after the Microsoft cash infusion. Then, this March, Barnes & Noble and Microsoft decided to scale back their partnership by ending work on Nook apps for Windows computers, phones, and tablets. At the time, Barnes & Noble said in a statement that it looked forward to continuing the partnership with Microsoft and "expanding the availability of Nook content."
Barnes & Noble is purchasing Microsoft's stake for about $125 million in cash and stock. Michael Huseby, Barnes & Noble's chief executive, said in a statement that the split will help Barnes & Noble "further rationalize the Nook business and provide a clearer path for the potential separation of our retail and Nook media businesses." Microsoft said in its own statement that "as the respective business strategies of each company evolved, we mutually agreed that it made sense to terminate the agreement." The Nook spinoff, initially announced for March 2015, is now expected to be complete by the end of August.

The announcement about the Microsoft partnership was tucked into the second quarter earnings report that Barnes & Noble released Thursday. Over the past three months, the Nook's revenues fell 41.3 percent to $63.9 million. Barnes & Noble's overall revenues also declined 2.7 percent to $1.69 billion. The only bright spot for the bookstore in the latest quarter was its college arm, which posted a 1.9 percent increase in revenue to $751.3 million. Barnes & Noble will have to wait until its next earnings report to see whether the holiday season and a clever signed-books promotion on Black Friday can give a much-needed boost to its sales.

As for now, shares of the bookstore chain are down nearly 10 percent in midday trading, to $20.09. Despite that, Barnes & Noble has performed fairly well this year, with its stock up more than 30 percent since January.

---