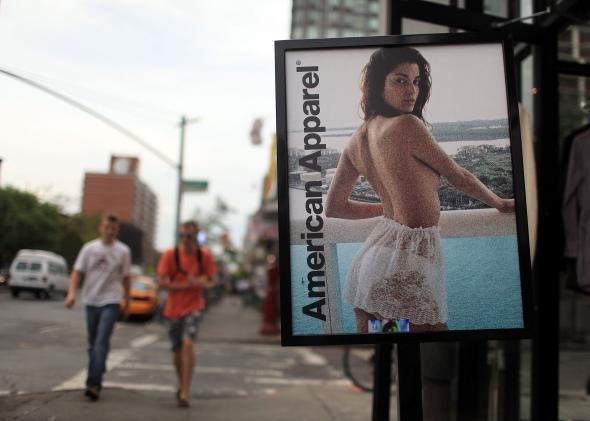 After voting to fire its "pantless" CEO, weathering sexual harassment claims, posting its biggest sales loss in four years, and actually firing that same CEO, American Apparel is ready to consider a takeover bid. The retailer has confirmed that it is evaluating a buyout offer of $1.30 to $1.40 per share that would value its company at $226 million to $243 million. American Apparel did not name the party that made the offer, but the Wall Street Journal reported last week that private equity firm Irving Place Capital had approached American Apparel's board with a takeover bid in the same price range.
Shares of American Apparel jumped more than 8 percent at one point Monday morning on news that someone might actually be interested in buying the embattled company. Last week's rumblings of a deal were also enough to push American Apparel out of penny stock territory for the first time since early September. As of early afternoon, its shares were still trading up about 3 percent at $1.10—twice as much as the dismal 55 cents they closed at exactly one week ago.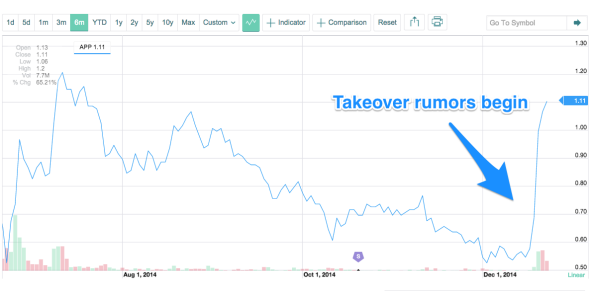 In addition to announcing the proposed takeover, American Apparel said on Sunday that it had adopted a new yearlong "poison pill" to fend off unwanted suitors. Poison pills, a common takeover defense mechanism, allow companies to issue new shares below the market price when another party buys up enough stock to hit a designated threshold. For American Apparel, that "trigger" amount is 10 percent. The measure is not intended to deter bidders, the company said, but to "ensure that all American Apparel stockholders are treated fairly."
As for Dov Charney, American Apparel's notoriously sleazy founder and now former CEO, the board officially terminated him last week for misusing company funds and allowing nude photos of a former employee who sued for sexual harassment to be published. Charney retains a 43 percent stake in American Apparel, which he bulked up in July in an effort to maintain control. Paula Schneider, a fashion veteran, has been named as Charney's successor. To state the obvious, she's a woman. Her résumé includes time at Warnaco and BCBG Max Azria and an "inspiration award" from the National Association of Women Business Owners. And American Apparel is surely hoping that she might prove the antidote to Charney's dirty old man act.

---