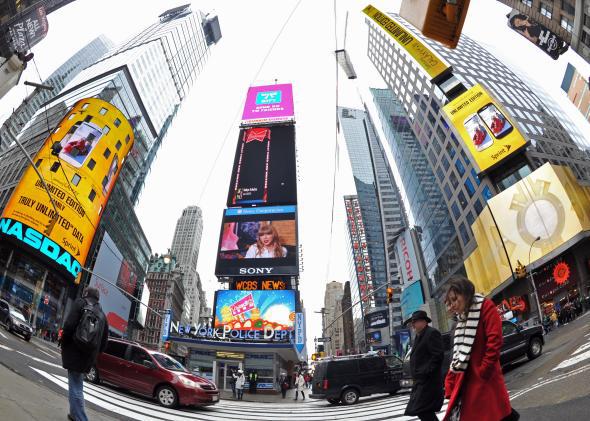 Come Tuesday night, Times Square will light up its biggest billboard yet, the New York Times reports. The eight-stories-tall screen spans from 45th Street to 46th Street on Broadway—roughly the length of a football field. It contains almost 24 million LED pixels for excellent resolution and will cost more than $2.5 million for four weeks of advertising. The first advertiser to use it will be Google, with a campaign that begins Nov. 24 and runs through the start of 2015. From the Times:

In the flashing, bustling advertising mecca that is Times Square, the screen is the biggest and the only one to cover an entire city block.
"Size matters in Times Square," said Harry Coghlan, president of Clear Channel Outdoor New York, which is selling the ad space. Last week, as he stood on the corner of 46th Street and Broadway watching test images of skiers and fashion models illuminate the new display, tourists turned their heads to look at the sign, their jaws actually dropping.
"Sometimes it just comes down to wanting to stand out, and it comes down to ego," he said.
The Times Square billboard was built by Vornado Realty Trust as part of a redevelopment project estimated in 2012 to cost $140 million. It will not be the largest in the world; that honor goes to a billboard near the King Khaled International Airport in Saudi Arabia that stands 39.3 feet tall and 820.2 feet long. According to a survey of 2,000 people in Times Square that the Times cites, about 80 percent of respondents said ads and billboards "add to the appeal of the destination" and 60 percent reported spending more than five minutes examining them. We can only assume that nearly all of those respondents were tourists.

---