The cover photo on Pizza Hut's Facebook page shows a pepperoni pizza oozing bacon and cheese from its crust—which is only appropriate, coming from the same chain that birthed the 2,880-calorie cheeseburger pizza. (Update, Nov. 11, 2014: Since this post was written Monday night, Pizza Hut has updated the cover photo on its Facebook page with … spinach and what appears to be sriracha! Let the rebranding begin!) Despite this strong attachment to grease and salt, however, Pizza Hut has decided to pursue a new flavor path: healthy and eclectic.
Pizza Hut, the Yum Brands unit and Italian-ish sibling of KFC and Taco Bell, announced Monday that it is seriously rebranding its U.S. business. Starting Nov. 19, Pizza Hut is rolling out 10 new crust flavors (among them, toasted Asiago and honey sriracha), six sauce choices (buffalo, more honey sriracha), five "premium toppings" (banana peppers, spinach), and five "drizzles" (balsamic, more buffalo, and even more honey sriracha). The menu is also getting a line of "Skinny Slice" pizzas with about 250 calories a slice, and the pizza itself a new logo and box.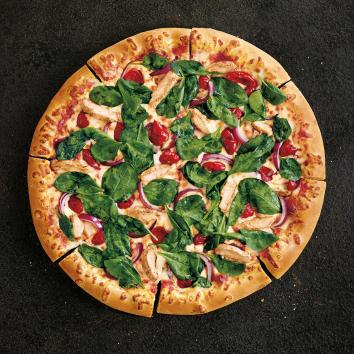 According to USA Today, the overhaul is the biggest in Pizza Hut's 56-year history. In addition to more than doubling the ingredients at each of Pizza Hut's 6,300 restaurants nationwide, the rebranding is also introducing a number of puns to the menu, such as "Curried Away" and "Cock-a-Doodle Bacon."
The ambitious rebrand is aimed at giving a much-needed boost to Pizza Hut's business. In the latest quarter, same-stores sales in the U.S. declined 2 percent and operating profit fell as well. While those numbers weren't great, Yum Brands CEO David Novak said on the quarterly earnings call that Pizza Hut "should have a strong 2015 led by an expected U.S. turnaround." That plan, he added, would include ads designed to "better connect with millennials" that would also "reinforce Pizza Hut's leadership, quality, innovation and superior value."
Pizza Hut is joining a series of fast-food chains that are desperately trying to escape their fast-food images. McDonald's, the standard-bearer for this movement, has gone so far as to hire Grant Imahara of MythBusters and ready a new slogan—"Lovin' Beats Hatin' "—to fend off consumer skepticism. McDonald's could certainly use some loving after its profit plunged 30 percent in the latest quarter and its same-store sales slipped 3.3 percent. Pizza Hut could as well. The question in both cases is how much rebranding and spinach and sriracha it will take for customers to buy in.