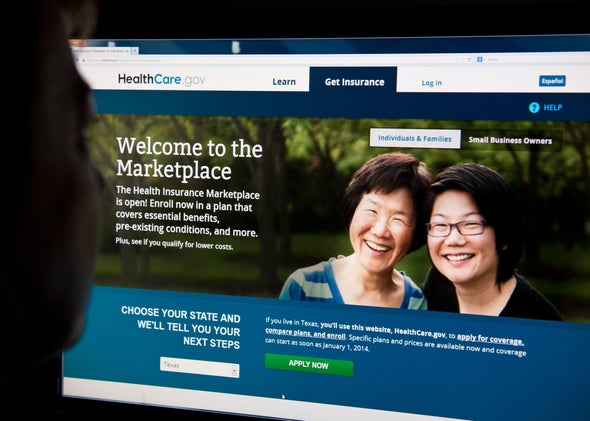 The Obama administration has acknowledged that it overcounted the number of Americans currently enrolled in health insurance purchased through the Affordable Care Act's online exchanges, Bloomberg reports today. Earlier this month, Department of Health and Human Services announced that 7.1 million individuals were still paying for coverage they bought on the marketplaces last year, down from the 8 million who originally signed up. However, that number included 380,000 people who only bought dental plans. The actual number of Obamacare health-insurance enrollees was closer to 6.7 million.
"A mistake was made in calculating the number of individuals with effectuated Marketplace enrollments," HHS spokesman Kevin Griffis told Bloomberg. "Individuals who had both Marketplace medical and dental coverage were erroneously counted in our recent announcements."
The error was first uncovered by the Republican-led House Committee on Oversight and Government Reform, and conservatives are, of course, having a field day with the discovery. Obamacare opponents have long argued that while the program beat expectations early on by signing up more than 7 million individuals for coverage, many customers simply wouldn't pay for their plans. Now, they have a bit of vindication on that front, as well as just enough evidence to accuse the White House of a cover-up. Oversight Committee Chairman Darrell Issa—who the last time you heard from him was probably ranting and raving about Benghazi—called today's revelations evidence of "concerted effort to obscure a heavy dropout rate" on the exchanges.
Two points to make here: First, 380,000 sounds like a large number, and it did conveniently push Obamacare's enrollment figures over the Congressional Budget Office's projection of 7 million sign-ups. However, 380,000 also only amounts to 5.6 percent of the real tally, and the 7 million figure was never particularly meaningful to begin with (nothing particularly magical happened if Obamacare reached that milestone, and nothing tragic will happen because the program missed it). And, as Charles Gaba of ACASignups.net told Bloomberg, even with the lower total, Obamacare's attrition rate was still in line with what experts like him predicted. This new news shouldn't especially change anybody's opinion about whether the exchanges have succeeded or not.
On the other hand, this certainly doesn't look good for the administration politically. This seems more like garden-variety incompetence than anything. But that won't stop the GOP from crowing about a conspiracy to make Obamacare look more successful than they think it is.

---