On Wednesday, six banks agreed to pay $4.3 billion to regulators for attempting to manipulate the foreign-currency markets. Citigroup and JPMorgan Chase got hit the worst, with fines of more than $1 billion apiece. The nuts and bolts of the scandal are complicated, but basically the banks involved colluded to rig an important currencies benchmark in a $5.3 trillion market to boost their own profits.
One of the remarkable aspects about this particular scandal is that yet again banks are being nailed by regulators for dumb things their traders said in chat rooms. In October of 2013, it came out that chat rooms were a focus of the probe into currency manipulation. A U.K. regulator's examination of email and chat transcripts revealed a small group of traders that went by names including "The Cartel," "The Club," "The Bandits' Club," and "The Dream Team."
A lengthy report filed by the U.S. Commodity Futures Trading Commission this week shines more light on what was going on in those chat rooms:
FX traders at Citibank and the other banks used private electronic chat rooms to communicate and plan their attempts to manipulate the FX benchmark rates for certain currency pairs.2 Certain FX traders at Citibank regularly participated in numerous private chat rooms. At times, in certain chat rooms, FX traders at Citibank and other banks disclosed confidential customer order information and trading positions, altered trading positions to accommodate the interests of the collective group, and agreed on trading strategies as part of an effort by the group to attempt to manipulate certain FX benchmark rates, in some cases downward and in some cases upward.
And here's an example of what regulators cite as misconduct: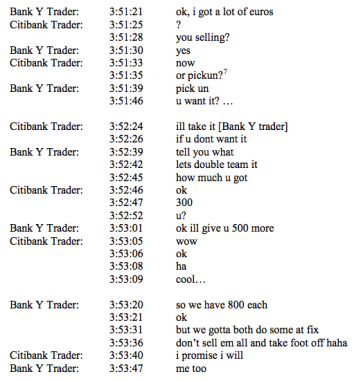 Chat rooms have caused many headaches for Wall Street in the past. They most famously helped regulators document the LIBOR scandal and also earned fines for Barclays after it discarded instant messages. So great have been the finance industry's chat-inflicted pains that several big banks banned certain chat rooms and others looked to overhaul the system entirely. Early last month, Goldman Sachs led a $66 million investment in Symphony Communication Service Holdings, a platform designed to centralize digital communications from texts to tweets for finance professionals.
The irony in this latest scandal, as Matt Levine points out at Bloomberg View, is that no one seems to know or care how much money the banks made manipulating the foreign currency market. What people care about is that the traders in these chat rooms weren't playing by the rules. "After Libor, terrible chat room conversations are enough in themselves to justify billion-dollar fines," Levine writes. If that's really the case, Wall Street and all its chat-loving employees might want to take note.