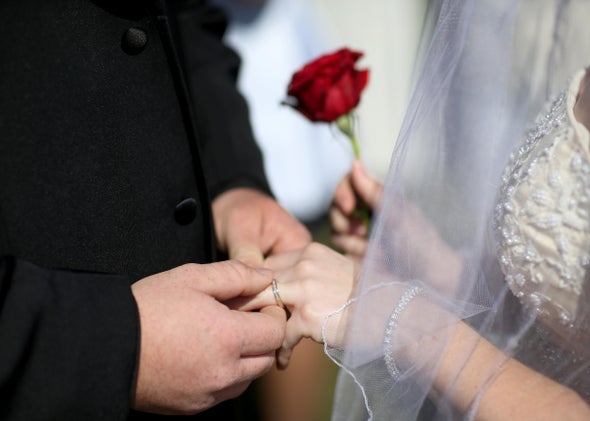 What do women want in a husband? According to polling by the Pew Research Center, a man with a steady job, first and foremost. Unfortunately, as I wrote last week, those are in somewhat short supply. Pew reports that among Americans between the ages of 25 and 34, there are just 84 employed and unmarried men for every 100 unmarried women.

But that's a nationwide figure—in some parts of the country, prospects are better than others. Today, Pew is out with a post on the "best and worst cities for women looking to marry," assuming a paycheck is high on their list of priorities for a mate. There are four California cities in the top 10, along with Denver and Seattle. (Pew looked at 43 metro areas with at least 100,000 unmarried young adults.)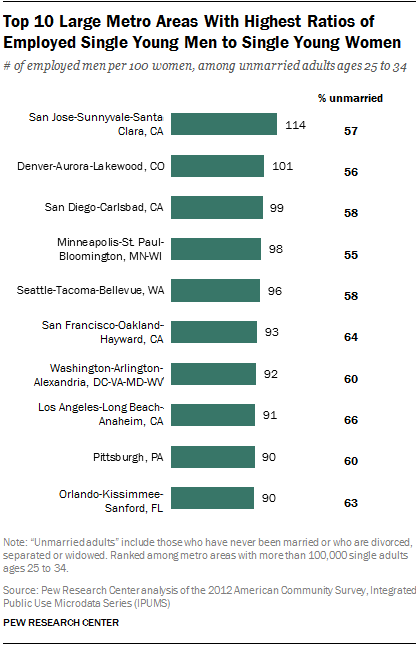 Note that the list is heavy on tech hubs with highly educated workforces. Contrast that with the southern and industrial towns at the bottom of the ranking. Memphis: low on men with bachelor's degrees, low on marriage prospects. (Of course, this is all framed from an economic perspective—obviously, not everyone is psyched to date a programmer.)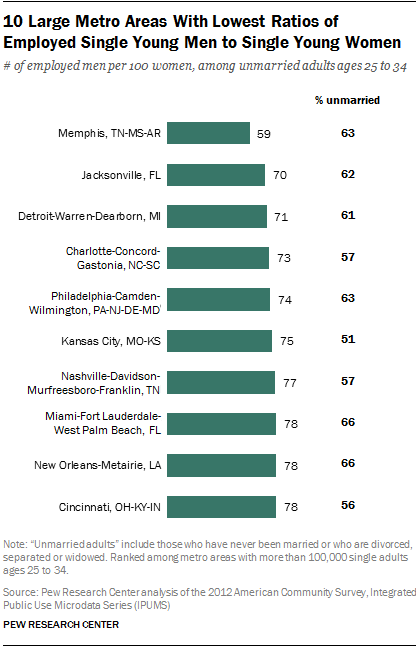 Footnote: Last week, I reported there were 91 never-married and employed young men to every 100 never-married young women. This week, Pew decided to switch from "never-married" to "unmarried," adding divorcés to the category and worsening the ratio to 84:100.
---