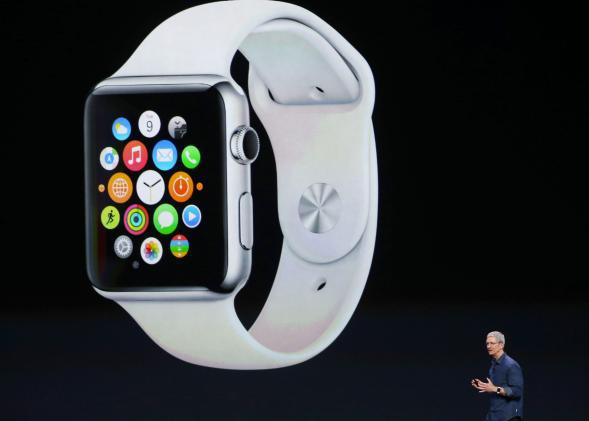 One of the many features that got hyped about the upcoming Apple Watch was its screen. Made from "sapphire glass"—a dense, hard crystal—the display is supposed to be expensive to manufacture and almost impossible to scratch. In late 2013, Apple signed a $578 million deal with GT Advanced Technologies to produce sapphire material for its products. So it was odd when on Monday, still at least several months away from the 2015 release of the Apple Watch, GT abruptly said it was filing for Chapter 11 bankruptcy protection.
In a statement on the company's website, GT said it had approximately $85 million in cash as of Sept. 29 and was seeking new financing that would "enable GT to satisfy the customary obligations associated with the daily operation of its business." Tom Gutierrez, GT's president and CEO, said in the release that the Chapter 11 filing did not mean the company was going out of business. "We are convinced that the rehabilitative process of Chapter 11 is the best way to reorganize, protect our company, and provide a path to our future success," he said.
It is unclear what led to GT's bankruptcy filing, but at least one theory is that Apple, which had been widely expected to use sapphire for the iPhone 6 screens, made a late decision not to do so. While Apple never disclosed its specific plans for sapphire glass, the iPhone-screen theory gained credence after 9to5Mac observed that machines ordered by GT were specifically designed for "display-grade components, not small pieces of sapphire that could be used for Home buttons or cameras." (Sapphire is already used in the iPhone's Touch ID sensor and camera lens cover.)
Earlier this year, shares of GT Advanced Technology had risen somewhat shakily to new highs of nearly $20. After Monday's announcement, the stock plummeted 95 percent from its opening price of $11.06 to less than $1. Raymond James analyst Pavel Molchanov wrote in a less-than-optimistic report that while the bankruptcy came as a surprise to just about everyone, "What we are comfortable predicting is that the equity is almost certainly worthless and will end up being delisted." Things are looking a tiny bit brighter today, with GT's stock up 100-plus percent on heavy trading volume. Then again, that's not saying much when you started the morning at $0.90.

---