After launching an investigation into Airbnb's practices several months ago, the New York State attorney general's office released its findings in a report this morning. "Until now, the discourse has centered more on opinions and anecdotes than facts," it states in the introduction. "This report seeks to bridge the gulf between rhetoric and reality."
Airbnb, according to the AG's analysis of 497,322 transactions for stays between January 2010 and June 2014, is largely illegal, hugely profitable, and quickly consuming lower Manhattan. Rather than helping the average New Yorker make ends meet, much of Airbnb in New York City is making money for a small number of commercial hosts running large, multimillion-dollar operations. Here are a few quick facts and figures from the office's report (which makes droll and ample use of Airbnb's signature salmon-pink color scheme):
72 percent of "private short-term rentals" (renting out an entire apartment or private room when the host is not present for less than 30 days) were illegal
Private short-term rentals have increased tenfold since 2010
6 percent of Airbnb hosts accept 36 percent of private short-term bookings and make 37 percent of all host revenue
The top Airbnb commercial operator in NYC ran 272 listings and made $6.8 million in revenue during the period examined
41 percent of host revenue comes from bookings in the Lower East Side/Chinatown, Chelsea/Hell's Kitchen, and Greenwich Village/SoHo. Just 3 percent comes from Queens, Staten Island, and the Bronx combined.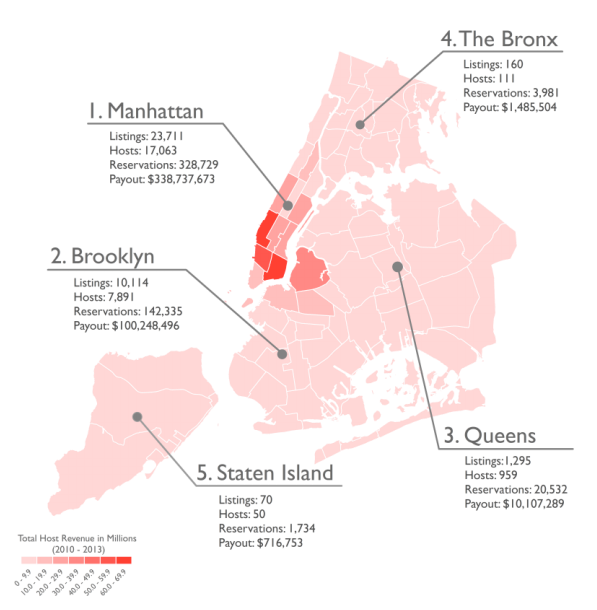 "This report raises serious concerns about the proliferation of illegal hotels and the impact of Airbnb and sites like it on the City of New York," Attorney General Eric Schneiderman said in a statement. He said his office and city officials have launched a program "aimed at aggressively tackling this growing problem" and will be working to track and shut down illegal hotels.

In a statement responding to the report, Airbnb said it is ready to "move forward" and "work together on some sensible rules that stop bad actors and protect regular people who simply want to share the home in which they live." It also contested the accuracy of the findings. "The report's conclusions rely on incomplete and outdated information," Airbnb said. "For example, the findings do not account for the more than 2,000 listings we have already removed from our community in New York."
Even granting that, the AG's report is certainly adding some hard numbers to the growing pile of Airbnb horror stories. One of the most striking of those, reported in late September by New York magazine's Jessica Pressler, involved a European designer in his 40s whose three Airbnb listings include a spare condo near the West Side Highway (rented to a Russian oligarch) and a rent-controlled studio in the West Village (the owner thinks he has a lot of relatives come to stay).
At the time, Airbnb denied that its business was having any effect on the New York housing market and cited a study finding that Airbnb could "make urban housing more affordable for more families." On the other hand, Airbnb commissioned that study. According to the AG's analysis, thousands of short-term rentals on Airbnb are displacing long-term options from the already limited housing stock. And if Airbnb is truly making the supply of long-term rentals go down, odds are it's also contributing to the price of those rentals going up.