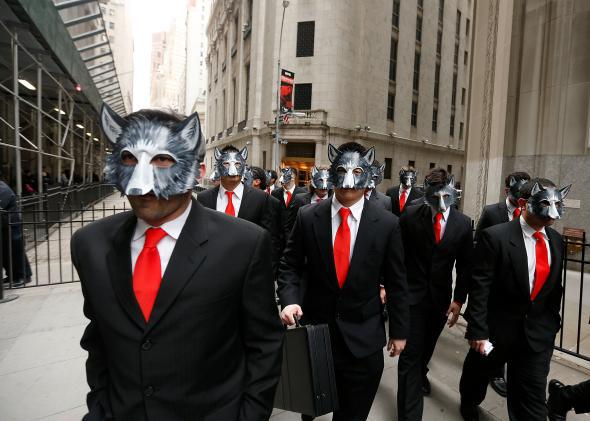 Hours. Pay. Work-life balance. Overall satisfaction. In just about every way, Wall Street is getting a bit more bearable, according to an annual survey of top financial institutions conducted by career services and information site Vault.
The Blackstone Group, a global asset management firm, earned the No. 1 ranking for the second year running with peers rating it highly in terms of prestige and its own employees giving it strong scores for various quality-of-life factors. Goldman Sachs came in second but fared poorer in the quality-of-life evaluation. Morgan Stanley and JPMorgan followed in third and fourth, respectively. And across the industry, bankers reported significantly higher satisfaction on average than they did in either of the previous two years.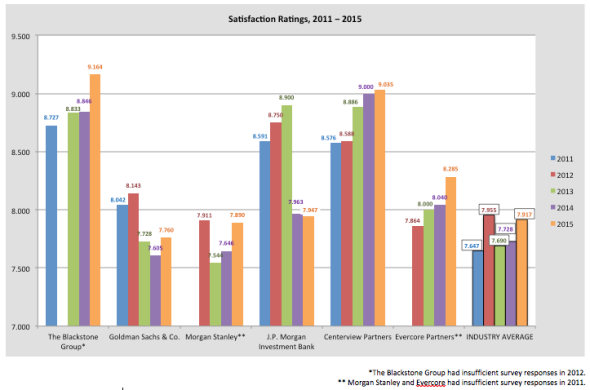 In its analysis of the rankings, Vault theorizes that big-name banks like Goldman are benefiting from a concerted push to ratchet back hours for the newest employees. These policies, known by names such as "protected weekends," have included giving junior bankers Saturdays off or promising at least one entirely uninterrupted weekend per month. So far junior bankers seem to have a love-hate relationship with the increased time off: They appreciate the added freedom but fear it might be coming at the expense of their coveted bonuses.
Then again, if bonuses are staying static, salaries are climbing. In late August, a string of firms announced plans to increase base pay for junior bankers by at least 20 percent beginning in 2015. The move is expected to bring prebonus salaries for analysts at top-tier banks to around $85,000. Vault's data suggests that the overarching trend continues to be up: As you can see from the chart below, bankers industry-wide said compensation improved from the previous year, if only slightly.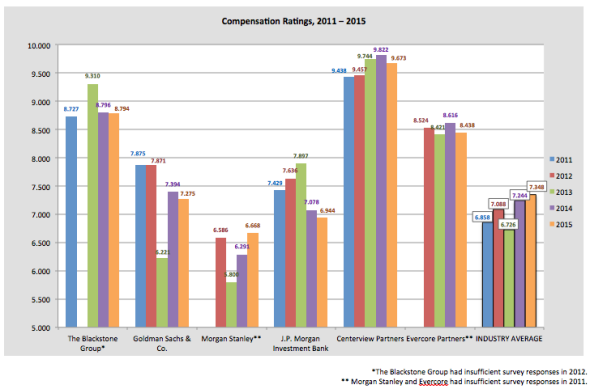 ---