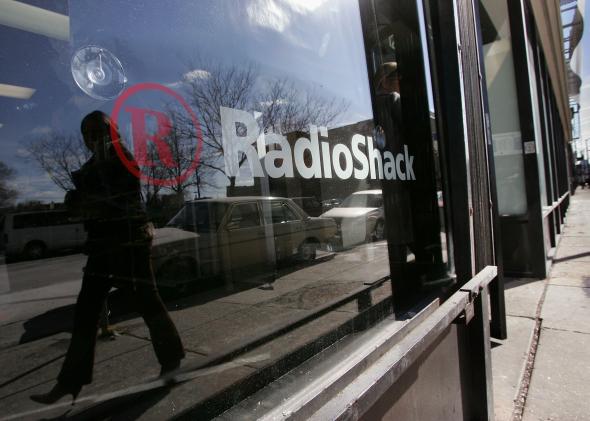 RadioShack admitted in a filing this morning what analysts have been saying for months: The end might be in sight. "If acceptable terms of a sale or partnership or out-of court restructuring cannot be accomplished, we may not have enough cash and working capital to fund our operations beyond the very near term, which raises substantial doubt about our ability to continue as a going concern," the company stated grimly. RadioShack said in the same filing that its same-store sales plummeted 20 percent in the second quarter as the consumer electronics market remained weak and people went elsewhere to purchase their cellphones.
The writing has been on the wall for RadioShack for some time. At its peak during the dot-com boom, shares of RadioShack sold for $78 apiece. But in June, the beleaguered company's stock began trading below the $1 threshold for the first time in its 90-year history and has recovered little since then. RadioShack's net loss grew to $137.4 million in the latest quarter to mark its 10th-straight quarter of decline. Michael Pachter, an analyst for Wedbush Securities who lowered the price target on RadioShack to $0 earlier this week, told Reuters, "It would surprise me if we got to Nov. 1 without a bankruptcy."
It's surprising that RadioShack has managed to hold on this long. The company long ago fell behind its more Internet- and technology-savvy competitors. In a last-ditch attempt to turn its business around, RadioShack had hoped to shutter around a quarter of its 4,300 stores but was forced to abandon the plan when it didn't get appropriate support from lenders. Around the same time that its shares dipped into penny-stock territory, another analyst slashed his price target on the stock to $0 and declared there was "no recovery in sight." Based on today's filing, he was right.
---