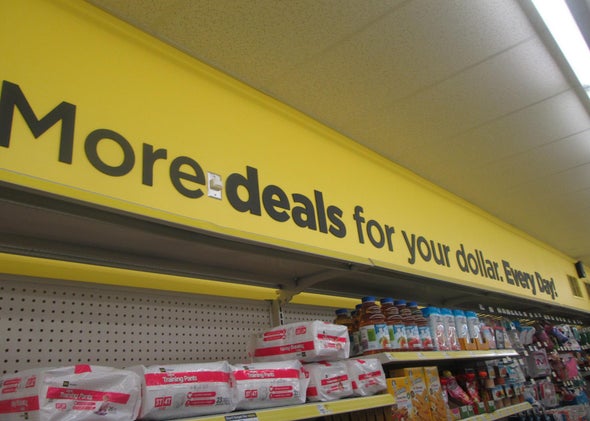 Dollar General is done playing nice. After being rejected twice by Family Dollar in its bid for the smaller company, Dollar General on Wednesday set in motion a hostile takeover by bringing its $9.1 billion offer directly to Family Dollar's shareholders.
Drama has heated up at America's dollar stores throughout the summer: First Dollar Tree planned to buy the struggling Family Dollar, and then Dollar General came looking for a share. Dollar stores are a $48.2 billion market in the U.S. and are projected to grow 18 percent over the next five years, according to data from Euromonitor International, making them a lucrative slice of the retail market. Dollar General is by far the biggest of the three chains, with $17.5 billion in annual sales—more than twice the $7.84 billion that Dollar Tree brought in last year and well over Family Dollar's $10.39 billion. Both Dollar General and Family Dollar sell their items at a cheap range of prices, while Dollar Tree is a "true" dollar store that sells everything for $1.

The cash tender offer from Dollar General is to purchase all outstanding shares of Family Dollar for $80 apiece. That well exceeds the $74.50 per share or $8.5 billion buyout offer made by Dollar Tree and also tops Family Dollar's current share price of around $78.60. Shareholders will have about a month to consider the proposal: Dollar General said that the current offer is set to expire at 5 p.m. on Oct. 8.
Approaching Family Dollar shareholders allows Dollar General to begin crucial discussions with the Federal Trade Commission over how it could get a deal by regulators without being blocked on the antitrust front. In its repeated rejections of Dollar General, Family Dollar has argued that the proposal is riddled with antitrust concerns. More than 1,500 of Family Dollar's 8,000-some stores are located in areas where the only significant competition comes from a neighboring Dollar General. Thousands more compete with a Dollar General and a Walmart. If Family Dollar really is a crucial check on Dollar General prices in 1,500 or more of those locations—and possibly the ones with a Walmart as well—then it's not hard to see how a merger could be considered anti-competitive.
Scott Hemphill, a professor of antitrust and regulation at Columbia Law School, notes that antitrust issues with retail mergers can often be resolved on a case-by-case basis. So while the FTC might find Dollar General's proposed takeover to be anti-competitive in some parts of the country, it could be completely fine in others. "In retail we think these things are fixable, because you can sell stores in areas where there's a problem," he explains.

Dollar General has already attempted to go this route, initially proposing to sell 700 stores and saying on Wednesday that it would be willing to divest up to 1,500 stores if needed. For the rest of its locations, it seems to be betting that some combination of local competitors and Walmart will be sufficient to overcome regulators' concerns. Dollar General has also accused Family Dollar's CEO Howard Levine of hiding behind the antitrust line to look out for his own job. But if Levine is taking a risk to preserve his standing, so is Dollar General in initiating a hostile takeover—as the Wall Street Journal notes, the company has made its offer without even seeing Family Dollar's confidential financial information.

---