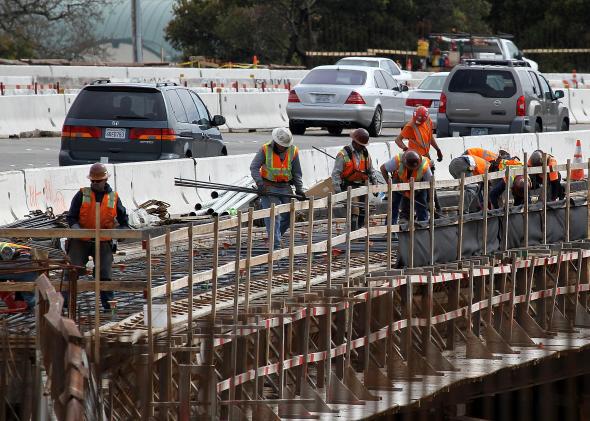 After the jobs report dropped last week, I noted that the U.S. had managed to add at least 200,000 jobs for six consecutive months, a feat it hadn't accomplished since 1997. But since the U.S. economy and population is significantly larger now than during the Spice Girls era, it's also useful to look at how speedily the labor market is growing compared with its overall size. 
Reasonably fast, it turns out. Total nonfarm employment has risen by at least 0.15 percent for each of the past six months. (To be clear, I'm rounding up after two decimal places.) In order to get a similar streak, you need to reach all the way back to the beginning of 1998, in the middle of a tech boom. There were more recent periods in which we averaged higher job growth overall, but the month-to-month changes were spikier. For instance, the current six-month rolling average for job growth is about 0.18 percent. The job market grew at a similar pace at times during 2005 and 2006.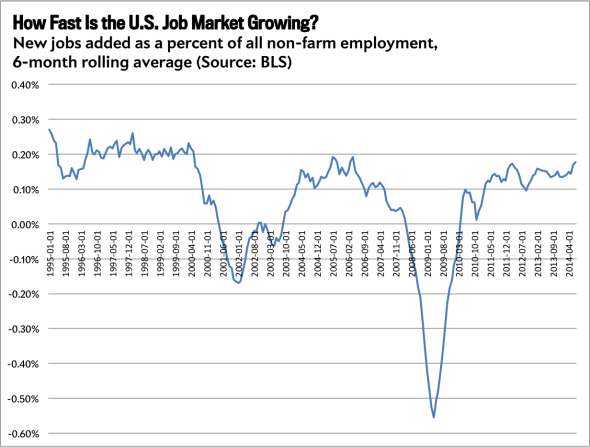 Whether you want to say that the market is expanding at its fastest clip in eight years or 16 years, it's nonetheless at a relatively stable, healthy place. But if we want to undo the lingering effects of the recession, stable and healthy might not be good enough. We need truly exceptional growth, which doesn't seem to be anywhere around the bend.

---