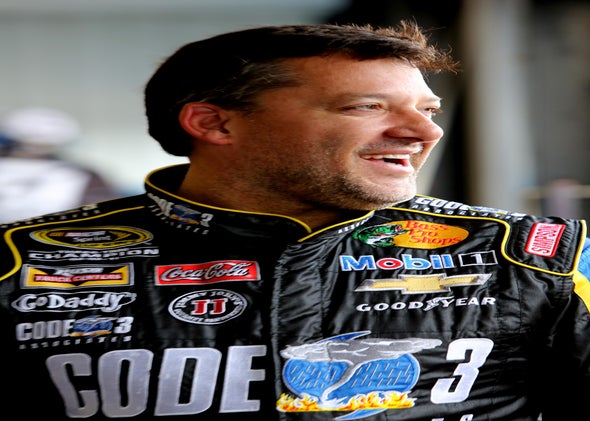 Under the usual circumstances, a famous athlete who had just indisputably killed a man would shed at least a few, if not all, of his corporate sponsors. Yet in the case of NASCAR star Tony Stewart, companies seem to be taking a wait-and-see approach—which speaks to the murky nature of the deadly accident on Saturday at the Canandaigua Motorsports Park in upstate New York, where the former Sprint Cup champion struck and killed 20-year-old driver Kevin Ward Jr., who had run onto the track seemingly to confront Stewart after their cars collided during a race.
"Our thoughts and prayers remain with the Ward family, Tony Stewart and all of those affected by this terrible tragedy," Mobil 1, one of Stewart's primary sponsors, said in a statement. "We are monitoring the situation closely and continue to respect the process local officials are taking to gather all of the information." Another sponsor, Coca-Cola, said in its own statement, "We are aware of the tragic accident that took place over the weekend. Our thoughts and prayers are with Kevin Ward's family, and with Tony and the Stewart-Haas race team." National used-car dealership J.D. Byrider stated that it is "monitoring the situation, and we have not made any changes to our sponsorship agreement with Tony Stewart at this time."
Often described as "brash," Stewart has a famous aggressive streak—he's thrown punches and helmets at competitors and reportedly sought anger management counseling. But so far, the local sheriff in Canandaigua says investigators have found no evidence of criminal intent on Stewart's part. As Sports Illustrated explains, he could still face a charge such as negligent homicide, which would not require demonstrating that he meant to kill Ward. But that charge might not stick, either, given that Ward ran onto a poorly lit dirt track, wearing dark clothes, in the middle of a live race. It was a supremely unsafe decision. As my colleague John Swansburg wrote, it's nearly impossible to tell exactly what transpired just by watching the gruesome video of the crash that has circulated online.
Unless Stewart faces criminal charges, experts say, it's unlikely any of his sponsors will abandon him. "I don't think that there are people out there who would stop supporting [a company] because of its relationship with Tony Stewart," Ramsey Poston, a former NASCAR executive and president of public relations company Tuckahoe Strategies, told CNBC. "I just don't see it rising to that level at all."
If the controversy does escalate, Stewart's stock could quickly drop, in part because of the unusually strong association between NASCAR drivers and the companies that sponsor them. Racing stars like Stewart are paid practically as full-time corporate pitchmen. Whereas Rafael Nadal would never thank his sponsor shoe company after winning a French Open, it's considered de rigueur for Stewart and other drivers to reel off their sponsors' names after winning on the track. They put in celebrity appearances at corporate events and star in TV ads, including this Smokey and the Bandit takeoff that Stewart cut for Mobil 1. Given how tightly bound up sponsors and drivers are, it's easier to imagine any blowback from the accident hitting the companies. Even if he's cleared of any wrongdoing, it's uncertain how many corporations would want a grinning Stewart pitching their products after this sort of tragedy.
Should his sponsors begin having second thoughts, the stakes for Stewart would be much higher than for other athletes who have lost sponsorships. When players in sports such as basketball or even golf lose a corporate backer, they lose money—but not their ability to compete. Companies quickly fled Tiger Woods after his serial infidelities came to light, but he managed to soldier on, eventually reclaiming the world's top ranking.
In race-car driving, however, sponsors are responsible for funding teams' basic operations. The details of NASCAR sponsorships are generally shrouded in secrecy, as Craig Depkin, a sports economist at the University of North Carolina–Charlotte, told me. But leaked documents indicate that top teams earn in the ballpark of $20 million per year by letting companies plaster their logos all over their cars and suits. That money, combined with winnings, helps cover the massive expenses involved in running a sophisticated racing operation, which may involve 100 employees custom-designing and building cars and engines, race after race. As author Jeff MacGregor has described it, "The big-money teams have stables of cars for each driver. They have an arsenal of primary and backup cars specially built and dialed in for the superduperspeedways or the short tracks or the road courses or the mile-and-a-half ovals. As many as 15 or 16 cars per driver."
Stewart is reportedly worth north of $100 million. But even with his personal fortune, it would be hard—maybe impossible—to compete on that level without the support of companies like Mobil 1. It may not help that he races under his own company, which also supports big-name drivers like Danica Patrick and Kevin Harvick.
"The existential threat of sponsors leaving is more acute than it would be in other sports such as golf or tennis," Depkin said. Unless Stewart faces charges, or a sudden wave of outrage from NASCAR fans, it's not a good bet that his top sponsors will leave his side. Still, the companies involved have a troubling moral dimension to consider: If it does ever start to look like Stewart lost his cool, or simply acted recklessly, before running down Ward, they won't just be responsible for supporting him financially. They'll be responsible for keeping him on the track.
---