Americans still tend to think about poverty as an inner-city problem. But some time around the dot-com bust and 2001 recession, the number of poor people living in the suburbs actually outstripped the total residing in cities. So why is suburban poverty often treated as out of sight, out of mind?
One reason may be that it's more diffuse. In urban areas, the poor are often packed into predominantly low-income neighborhoods. In the 'burbs, they're generally scattered through more economically diverse communities. In other words, the U.S. suburbs are home to lots of impoverished people, but they're not home to lots of slums.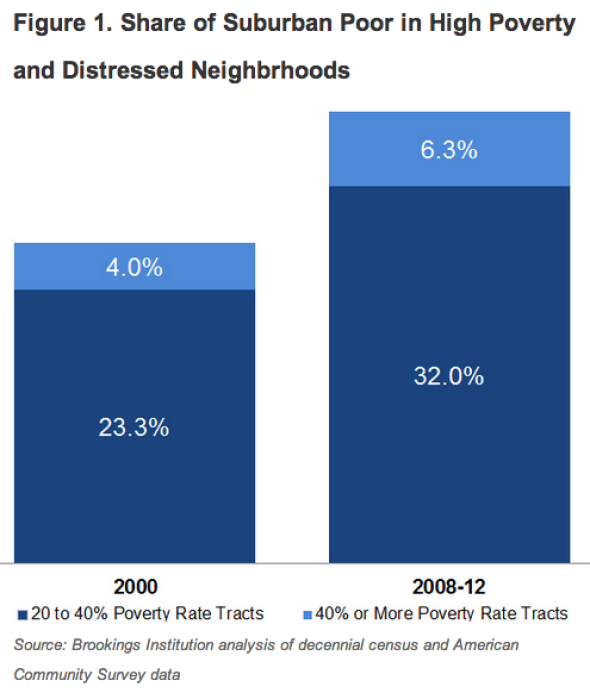 That's beginning to change, though, according to a new brief by Elizabeth Kneebone of Brookings. During the 2000s, suburban poverty not only grew—it also became more concentrated. In 2000, 27 percent of poor suburbanites lived in neighborhoods with a poverty rate of at least 20 percent. During the 2008–2012 period, the figure was about 38.3 percent.
Deeply concentrated impoverishment is still more common inside cities. As Kneebone writes, nearly a quarter of the urban poor live in neighborhoods with poverty rates of at least 40 percent. Just 6.3 percent of the suburban poor are trapped in those circumstances.
But relative comparisons aside, the growth of suburban slums is still very worrisome. As Kneebone and her colleague Alan Berube have written, most suburban communities aren't really equipped to handle the needs of the poor: The public transport systems are meager, the schools don't offer English-as-a-second-language courses for immigrant children, and there aren't the same networks of charity organizations dedicated to working with struggling families. The only upside of living in the 'burbs as a poor household is that you might not be surrounded by as many other poor households; research suggests that it's better to be broke in a neighborhood with a low overall poverty rate than a high one. In a high-poverty suburb, though, families are getting the worst of all possible worlds.