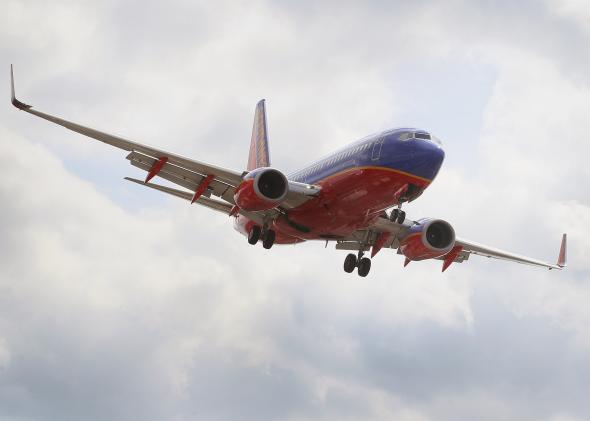 If you want your flight to arrive on time, you might not want to take Southwest. Its planes were on time just 67.6 percent of the time in June—the third-worst rate among U.S. air carriers—according to the recently released June Air Travel Consumer Report. Regional airline Envoy (formerly American Eagle Airlines) and ExpressJet were the only two that performed worse in that category, with on-time rates of 62.2 percent and 65.1 percent, respectively.

Southwest has been struggling to turn around its chronically late flights for a while. June was a particularly bad month for its timeliness; over the past 12 months, 71.8 percent of Southwest flights were on time. Of course, that's still not nearly as good as Delta (82.7 percent of flights on time in the past year) or the current gold standard, Hawaiian Airlines (93.6 percent on time in the past year). Businessweek traces the tardiness to last August, when Southwest overhauled its aircraft turnaround and flight times to pack more flights into peak travel hours. It worked—in a sense. Demand soared and customers flooded Southwest planes. But the company wasn't well-equipped to handle the surge, and so its timeliness fell.
Most of Southwest's delays in June came from late-arriving aircrafts. Delays for Envoy and ExpressJet, on the other hand, were split more evenly between late-arriving aircrafts and so-called National Aviation System delays—a broad category of issues that aren't really in the airline's control. What else makes airlines late? The report breaks down the most common causes in a nice pie chart: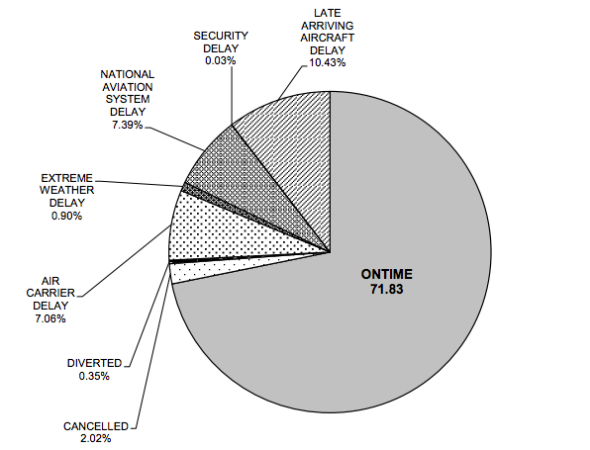 Other fun stats to inform your travels: Envoy had by far the most mishandled baggage reports filed per 1,000 passengers over the past six months, while Virgin America had hardly any. JetBlue and Virgin America are also among the least likely to bump passengers from an oversold flight (not surprising, since they routinely top rankings of airline customer satisfaction). Finally, Spirit Airlines got the biggest number of complaints in June, at 235. But we already knew that everyone hates Spirit.
---