Last week, a pair of analysts at Goldman Sachs released a report arguing that millennials, having largely sat out of the housing market as the recession and slow-covery ravaged our finances, are soon going to start buying more homes. Because you can't talk about young adult finances without mentioning student debt, the authors looked into whether education loans were keeping twenty- and thirtysomethings from becoming homeowners today.
Their carefully caveated conclusion: "Having college and student debt does not necessarily hurt housing."
Yesterday, Wonkblog posted a write-up of Goldman's work, which (according to Feedly) has been shared some 17,000 times on various social networks. The super-Facebook-likeable headline? "How student debt crushes your chances of buying a home."
Something had been lost in translation. To be fair, Dina ElBoghdady's actual Wonkblog piece does get at the nuances in Goldman's findings—nuances that the doom-and-gloom headline disappeared. In the end, the bank's report is actually pretty good news. It suggests that student debt only makes it harder for young people with unusually large loan balances or monthly payments to buy homes. It's not crushing the real estate–related hopes and dreams of every American who borrowed for their education.
On the whole, Goldman concludes that graduating from college, with or without debt, makes it easier to buy a house than if you only finished high school. (Shocker!) And in most cases, owing student loans didn't meaningfully change the chances that young people would buy instead of rent. However, controlling for education along with other demographic factors—meaning that Goldman compared college graduates to similar college graduates and college dropouts to similar college dropouts—households between the ages of 25 and 34 with more than $50,000 in loans were 8 percentage points less likely to own than those with smaller debt burdens.
How many millennial households owe that kind of money on their education? Not a whole lot. According to Goldman, which bases its estimates on the Federal Reserve's Survey of Consumer Finances, they amount to about 17 percent of all households with student loans. (I've written about the SCF's shortcomings when it comes to measuring student debt before, but it's a decent source of information. Also, remember that we're talking about households here, which include married couples, not individuals.) In short, a minority of college graduates who borrowed prodigiously for school may end up somewhat less likely to own a home at a young age than if they had made it through school without ever taking out a Stafford Loan. College dropouts, who have lower homeownership rates to begin with, are also less likely to buy when they're saddled with large amounts of debt.
Just as Goldman found that giant loan balances hurt home-ownership rates, it also showed that big monthly payments were a barrier to buying. Controlling again for education and demographics, former students who spent more than 10 percent of their monthly income servicing their debt were 22 percentage points less likely to be homeowners. This is unsurprising. If you're devoting a huge chunk of your paycheck to paying off your bachelor's degree, you probably won't have enough money for a down payment. Thankfully, only 9 percent of households with student debt were devoting one-tenth or more of their income toward loans. Again, we're only talking about a minority of borrowers here.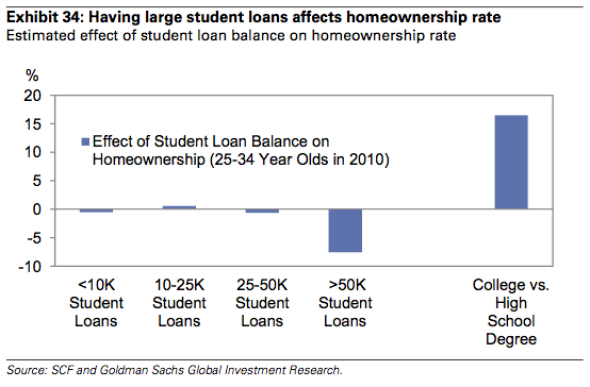 We would all be happier, and college graduates would be financially healthier, if students didn't have to borrow for school. There's also some evidence that banks aren't approving mortgages for applicants who are making especially high monthly student payments, and that borrowers who have fallen delinquent on their college debts have basically been shut out of the mortgage market. But on the whole, there are probably much more important reasons—including the slow job market, which has been especially brutal on the young—that are preventing millennials from buying houses. Simply having student debt isn't going to "crush" your ability to own.