The latest installment of Silicon Valley Comes Clean About Its Diversity Issues is brought to you by Apple, which released its less-than-stellar data on Tuesday. According to the statistics, Apple's 98,000 employees are 70 percent male and 55 percent white. At the leadership level, men hold 72 percent of positions and whites 64 percent. Notably, Apple's overall workforce is about 15 percent Asian—an anomaly among tech firms that tend to have 30 percent or more Asian employees.  
Following the lead of other tech executives, Apple CEO Tim Cook emphasizes in a note on the data that "diversity is critical to our success" and believes "deeply that inclusion inspires innovation." He adds that he is "not satisfied with the numbers" and is as committed to improving diversity as developing new products.
Genderwise, Apple's data is quite similar to that of other major tech companies that have released their numbers. Facebook, Google, LinkedIn, Yahoo, and Twitter all said that men make up between 61 and 70 percent of their workforces, with those figures rising for positions in tech and leadership.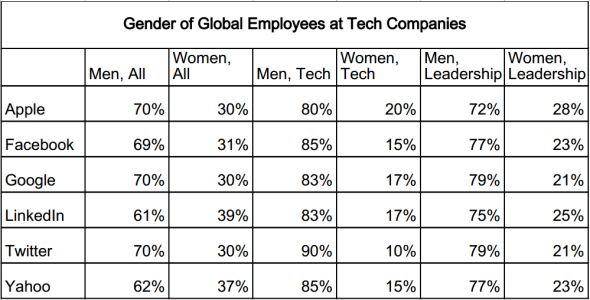 Apple has as many white workers as the next Silicon Valley firm, but its percentages of black and Hispanic employees more than double those of other major tech companies. Valleywag offered a less rosy take on Apple's relatively progressive ethnicity stats: Because Apple did not distinguish between corporate and retail employees, its overall ratios are boosted by workers in Apple stores. But as long as transparency around these issues keeps increasing, the industry as a whole might be moving in the right direction.