You don't have to be poor for your life to be touched by poverty. People are shaped by their neighborhoods. And areas heavy on low-income households suffer from worse schools, worse public services, worse crime, and a host of other problems that affect families who live well above the official poverty line. Researchers argue that middle-class black children suffer from more downward economic mobility than whites, for instance, in large part because they're more likely to be raised in impoverished communities.
Keep that in mind while taking a look at these maps from a new report by the Census Bureau on the growth of concentrated poverty in the U.S. In 2010, the overall U.S. poverty rate was about 15 percent. However, about a quarter of all Americans lived in a so-called "poverty area"—defined as a census tract where more than 20 percent of the population lived below the poverty line. For our purposes, we can just call these places poor neighborhoods, even though the term is a little more accurate in an urban context than a rural one. The problem was especially severe in Appalachia and across the South and Southwest, where in most states 30 percent or more of all residents lived in these communities.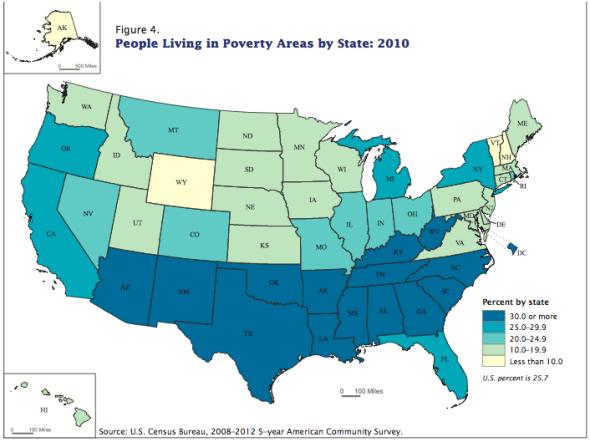 Here's what the map looked like in 2000, when 18.5 percent of the population lived in poor neighborhoods, and the North-South divide looked a tad less stark.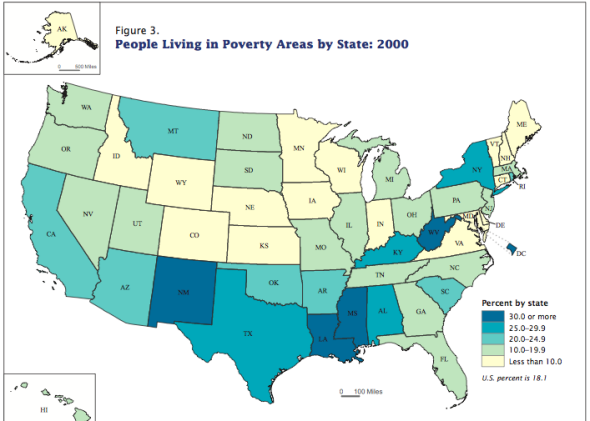 The South may have the greatest share of its population packed into poor neighborhoods, but the growth of concentrated poverty was actually fastest in the Midwest, as shown on the graph below. The poor-neighborhood population also became more suburban and rural compared to 2000, according to the Census.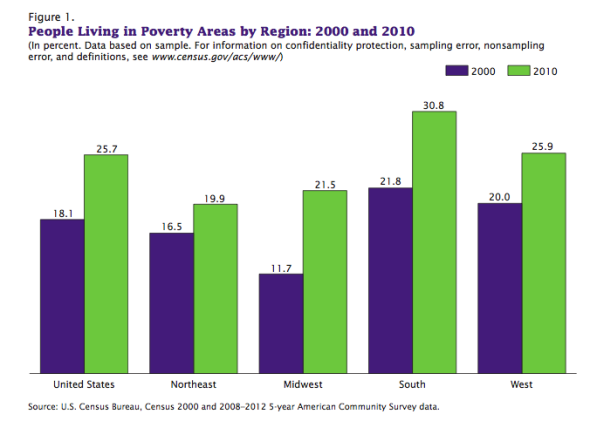 Because this Census study uses 20 percent as a marker, it doesn't specifically track what academics consider "high poverty" neighborhoods—that term generally gets applied to Census tracts where at least 40 percent of families live below the poverty line, and it's the threshold that many researchers use when looking at the ill effects of poverty on whole communities. Still, we know that at least one-quarter of the country lives in moderately poor areas. There's not much to take comfort in there.