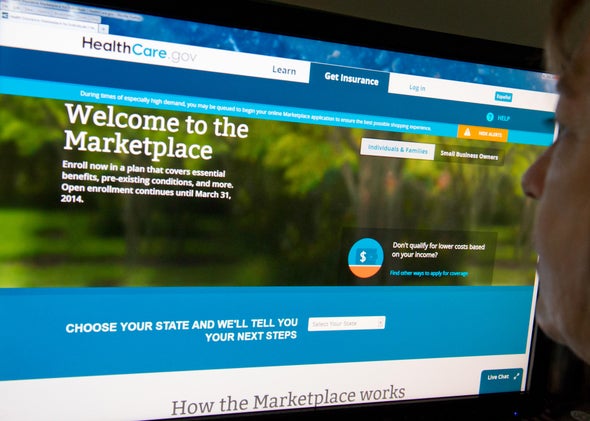 The fate of the Affordable Care Act is once again in question, now that a federal appeals court in Washington, D.C., has ruled that the government can't subsidize private coverage for residents in states that refused to set up their own insurance exchanges. Without those subsidies, the law pretty much falls apart. Slate will have a bunch of coverage on the decision today (here's Dave Weigel), but for the time being, it's worth pointing out a glaring irony about this whole lawsuit: It's actually an amazing advertisement for Obamacare.
Much of the case rests on the complaints of one David Klemencic, a West Virginia man who says he doesn't want to buy health insurance, and that were it not for the government's generous subsidies, he wouldn't have to. Below is how the court describes his predicament:
The district court determined that at least one of the appellants, David Klemencic, has standing. Klemencic resides in West Virginia, a state that did not establish its own Exchange, and expects to earn approximately $20,000 this year. He avers that he does not wish to purchase health insurance and that, but for federal credits, he would be exempt from the individual mandate because the unsubsidized cost of coverage would exceed eight percent of his income. The availability of credits on West Virginia's federal Exchange therefore confronts Klemencic with a choice he'd rather avoid: purchase health insurance at a subsidized cost of less than $21 per year or pay a somewhat greater tax penalty.
Let's spell that out: This lawsuit has been brought by a man who, thanks to Obamacare's subsidies, could purchase health insurance for $21 per year. That's about the cost of a 750 of Jack Daniel's or a hardcover novel. I guess you can't accuse Klemencic of putting self-interest ahead of his principles.
---