Since 2009, 95 percent of all income gains have gone to the top 1 percent of U.S. earners. And yet over at the Washington Post today, Zachary Goldfarb argues that President Obama has actually managed to reduce income inequality during his time in office.
What gives? In a word, taxes. When liberals talk about inequality, they usually look at America's income distribution before the IRS takes its cut. Through that lens, 1-percenters have grown their piece of the pie during the Obama era, as shown below.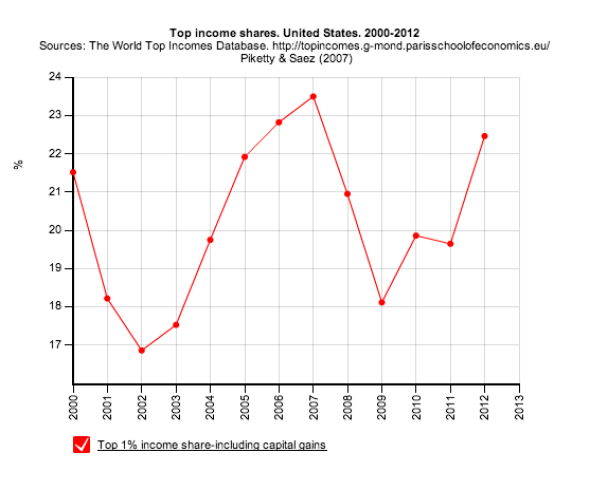 But Goldfarb is framing the issue a little differently. Using data from the Tax Policy Center, he analyzes incomes after taxes and government spending. And instead of tracing how inequality has evolved over time, he compares the economic gap today under Obama to what it would hypothetically look like if the Bush administration's policies were still in place. It's an illuminating counterfactual. Between the partial expiration of the Bush tax cuts and the tax increases tucked into the Affordable Care Act, America's wealthiest are forking over a larger portion of their income to the feds. So, as Goldfarb shows in the graph below, the top 1 percent on average now makes 84 times the earnings of households in the bottom fifth of the income ladder. Under Bush's tax regime, they would have made 91 times as much. When it comes to the gap between the wealthiest and the middle class, Obama policies haven't had as much effect. Overall, we can call it modest progress.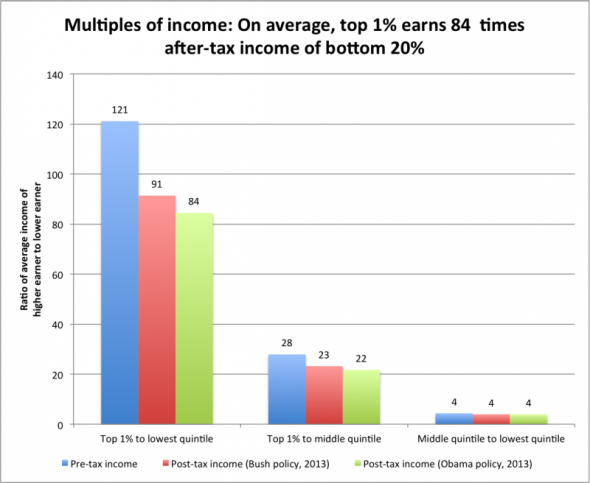 Goldfarb writes that the rich-poor gap as depicted in the chart should continue to shrink as more Americans enroll in Medicaid and get health insurance subsidies thanks to Obamacare. (Whether or not one should factor in health insurance income is a somewhat complicated philosophical question, but for now, let's do it.) Between the tax changes and health reform, Council of Economic Advisers Chairman Jason Furman argues that the administration has undone "more than a decade" of growing inequality.
And he has a point. Liberals prefer talking about pre-tax inequality in large part because it's a raw reading of how egalitarian our economy is—it tells us how bad the income gap would be were it not for Washington's intervention. But looking at post-tax-and-transfer inequality tells us how much more work needs to be done to even outcomes—and whether the government's interventions are having an effect. Both sets of numbers tell us important stories. One says the rich are still pulling away from the rest of us. The other says that the administration has managed, ever so slightly, to pull them back.