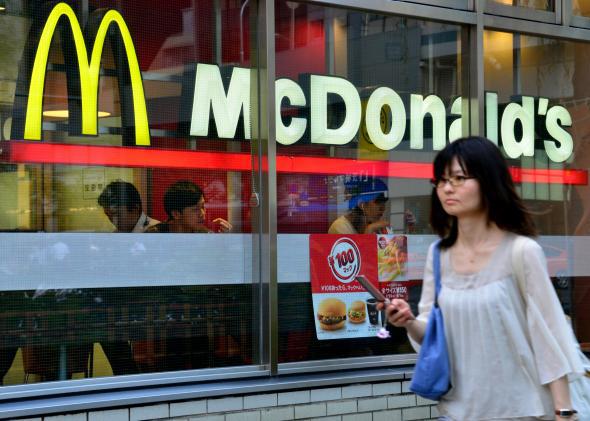 McDonald's Japan unveiled a game-changer on Tuesday: Tofu Shinjo Nuggets. The item is being rushed onto the menu less than a week after McDonald's announced it was stopping all sales of chicken products imported from China because of reports that a supplier might be shipping expired meat. The tofu nuggets will hit Japanese locations on Wednesday and be available until late September.
Tofu Shinjo Nuggets—literal translation: "minced tofu nuggets"—are made primarily from tofu and vegetables such as onions, soybeans, and carrots. They also include minced fish and will be served with a ginger-flavored sauce, a spokeswoman for McDonald's told the Wall Street Journal. "Because it isn't meat, it tastes a bit different. It's a bit softer," she said.
It's possible tofu McNuggets will enjoy just a brief moment in McDonald's Japan while Chinese chicken suppliers clean up their acts. But Tofu Shinjo Nuggets could also be something much better—the cusp of a new vegetarian/pescatarian push that expands beyond a meager number of salads (which are overwhelmingly topped with bacon and chicken). In May 2013, a 9-year-old girl called for McDonald's to introduce healthier options such as kale chips and more veggies. Maybe the chain will finally heed her call.
If the big dreams don't pan out, there should at least be a fun experiment here for anyone who lives in Japan and has also had normal nuggets. Try the tofu variety and tell us: Which tastes less like chicken?

---