Looking for an evergreen industry to invest in? Try debt collection. According to a new report by the Urban Institute, more than 35 percent of Americans owe nonmortgage debt that's been turned over to a collection agency—including anything from credit card balances to student loans to medical bills and parking tickets. If that sounds especially shocking, consider: In 2004, the Federal Reserve found that 36.4 percent of Americans had debt in collection on their credit file.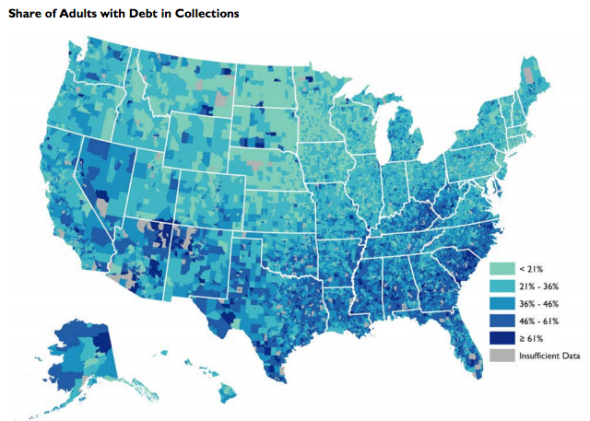 Like most financial ills, Americans in some parts of the country are having more trouble paying off their bills than others. As shown on this map above, the South is especially plagued with debt collectors—in some corners of the region, more than 61 percent of adults with credit reports have an agency on their tail. What's more, these figures don't include low-income Americans who are shut out of mainstream credit sources and instead rely on services such as payday lenders. (One slightly positive note: When you cut bills out of the picture, and focus only on credit-card balances and actual loans, only 5.3 percent have debt past due.)

Two points to make here. First, a smart populist politician could probably get a lot of mileage promising to crack down on some of the sleazier tactics that debt collection agencies employ. They're a villain many of us can relate to. Second, this is why we need consumer finance laws that protect Americans from themselves.