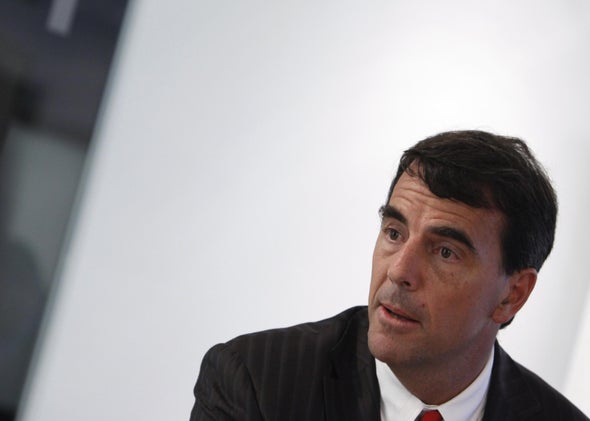 Remember when, last October, the criminal known as Dread Pirate Roberts was arrested and his market for illegal goods and services, Silk Road, shut down? And then U.S. law enforcement wound up with nearly 30,000 bitcoins worth tens of millions of dollars? Well, that stash of virtual currency was auctioned off last week and it is now all in the hands of one venture capitalist.
Tim Draper, the co-founder of investment firm Draper Fisher Jurvetson and father of prominent bitcoin investor Adam Draper, was the single winning bidder of bitcoins at a U.S. Marshals Service auction held on Friday. It's unknown just how much he paid to win the cache, though Bloomberg notes that the bitcoins themselves were worth about $19 million on the day they sold. More than 63 bids were submitted from 45 bidders during the 12-hour auction, according to the government.
Draper plans to partner with Vaurum, a bitcoin exchange that was incubated last summer by his son's startup accelerator Boost, to provide bitcoin liquidity in emerging markets. "Bitcoin frees people from trying to operate in a modern market economy with weak currencies," Draper said in a statement published by Vaurum. "We want to enable people to hold and trade bitcoin to secure themselves against weakening currencies."
As is no longer surprising with bitcoin enthusiasts, Draper also has a libertarian streak. In addition to his successful tech investments, he is also known for the radical "Six Californias" proposal. The goal of the plan is to divide the state of California into six separate states—including one just for Silicon Valley—with their own local governments. In May, Draper advocated for the six-way breakup by railing against what he viewed as the tyrannical effects of centralized government: "We've gone from, in effect, a very free country to one where it's moving toward, I guess it's slavery," he said. "When you work for your government, when your government forces you to do something, it's slavery. We need to take it back." Draper later expressed his regret for the slavery analogy.
---