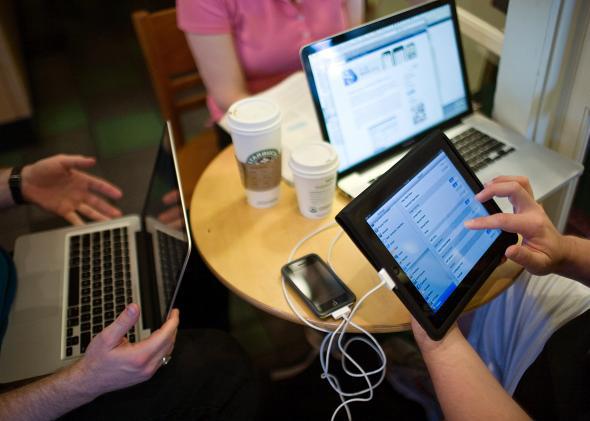 Free Wi-Fi has been a big selling point for Starbucks since the coffee chain started offering it in 2010. Could a complimentary phone charging station be another? Starbucks thinks so and began testing the proposition Thursday with a nationwide rollout of Duracell Powermat technology for wireless phone refueling. The charging stations will hit shops first in San Francisco and gradually expand to other parts of the U.S. in 2015. Starbucks expects that a full national rollout of 100,000 Powermat spots to 7,500 different stores could take several years.
The Powermat chargers use magnetic fields to power cellphones placed on top of them and follow standards set by the Power Matters Alliance. Only a few phones—Samsung's Galaxy 5S and Sprint's Kyocera Hydro Vibe, for example—are currently designed to connect to stations. That said, noncompatible devices such as the iPhone can still use the charging pads if they have the correct kind of adapters. That means most customers wishing to take advantage of the benefit will have to purchase adapters of their own, as a company spokeswoman told me Starbucks does not yet have plans to supply them.

Starbucks conducted preliminary tests of the Powermat spots in some of its Boston and San Jose locations, and the spokeswoman said the feedback from those trials was positive. Powermat president Daniel Schreiber told The Verge that each Starbucks store should average 10 or more hotspots, and that trials showed customers typically using them for 15 minutes at a time. The Starbucks spokeswoman said the powermat spots charge devices at approximately the same rate as a plug-in charger. That suggests customers are looking to the charging stations as a brief refill on energy rather than a full-blown recharge.
The foray into wireless charging is the latest reminder that Starbucks values its reputation not only as a coffee shop but as a tech-friendly operation. In addition to its free Wi-Fi, Starbucks also has a popular app that allows customers to make mobile payments and will soon introduce pre-orders. The company has said that upward of 11 percent of in-store transactions are made through mobile devices. Letting customers charge their devices will help keep them happy—and it might ensure that their smartphone lasts long enough to buy that second iced vanilla latte.
---