Finding a job out of college is hard. Finding a good job, the sort that might qualify as the start of a career instead of a stopgap meant to pay the rent, is harder. According to the Federal Reserve Bank of New York, about 44 percent of young bachelor's degree holders lucky enough to be working are employed in positions that technically don't require their degree. While that number isn't far off from the historical norm—22-year-olds have always needed a little time to find their professional footing—the fraction stuck scraping bottom in truly low-paying jobs has grown quite a bit since the recession.
Some new research out this week might offer those grads a smidgen of hope about their long-term prospects. It finds that once young adults escape underemployment and find a job that matches their education level, they may catch up to their peers' earning powers within a few years.
Unfortunately, it also suggests that escape might be rather difficult.
The working paper, by economists at Duke and the University of North Carolina at Chapel Hill, draws upon a long-term study that began tracking thousands of adolescents and young adults in 1979. In some senses, this was an especially useful group to look at today, since many in the cohort would have launched their careers during the severe double-dip recession of the early 1980s. Over time, they found, about 37 percent of four-year college graduates tended to have more education than their job required, at least judging by how many years of school their typical colleagues had completed. Among two-year college graduates, the number was closer to 66 percent.
The bad news was that among any group of overeducated workers in a given year, about two-thirds were stuck that way a year later. And, as shown on the graph below, the longer they remained underemployed, the lower their personal odds of finding a degree-appropriate job fell. Worse yet, some subjects who started off in an occupation that required their degree later fell into underemployment. Beginning their career on the right foot didn't stop them from stumbling down the line.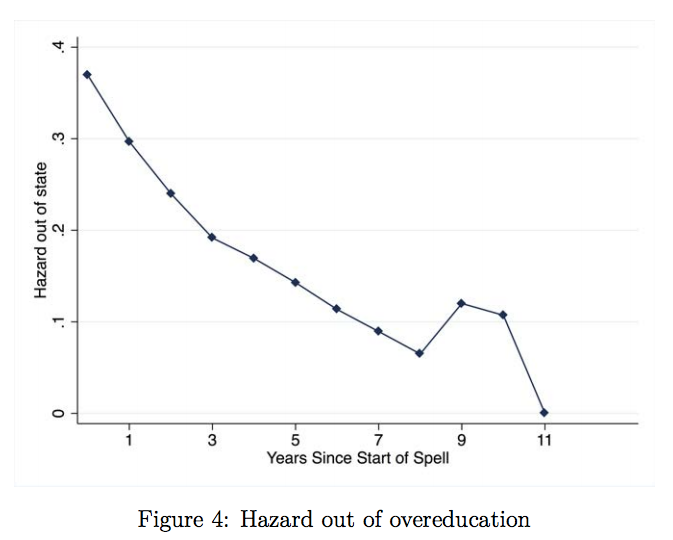 Those who spent time underemployed also tended to earn lower wages once they finally landed a job that matched their education. Holding factors like race, sex, and cognitive abilities steady, they made 2.6 to 4.2 percent less than their peers. But that's where the good news comes in: After four years, the gap seemed to disappear from the data. All else equal, in other words, the underemployed were capable of making up lost ground.
Previous research has shown that workers who suffer spates of unemployment or who graduate into a recession suffer a pay penalty years on down the road. This new study may shed some light on why. When the economy is a wreck, graduates take the work that comes their way, and have to hope that with patience, a better opportunity might come along. The bad news in this study is that wait might last a while. The good news is that once it's over, they won't necessarily be playing catch-up forever.