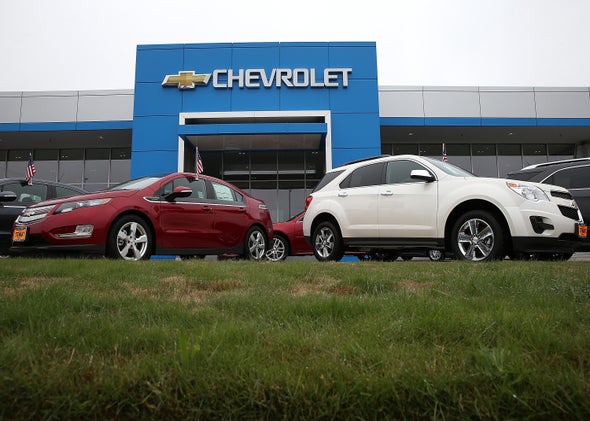 In the latest expansion of its safety crisis, General Motors said on Monday that it was recalling another 8.45 million vehicles worldwide. Most of those cars were recalled for the kind of ignition-switch defects that have plagued GM all year long and have been linked to at least 13 deaths and 54 crashes. GM said it was aware of seven crashes, eight injuries, and three fatalities among the newly recalled vehicles but could not conclusively say whether they were triggered by the ignition troubles.

GM has now recalled some 29 million vehicles since the start of the year—more than the total number of vehicles it sold in 2011, 2012, and 2013 combined. It's also more than the 22 million vehicles recalled by all automakers combined in the previous year. Payouts to the victims of defect-induced crashes in GM vehicles and their families could end up costing the company several billions of dollars.
Shares of GM lost $0.32 in the afternoon, or a little less than 1 percent, after their trading was temporarily suspended on the New York Stock Exchange while the news broke. The stock has fallen more than 11 percent since the start of the year, despite being up overall in the month of June. It was downgraded dramatically by Morgan Stanley to "underweight" from "overweight" in April.

At this point, it's hard to know whether to be shocked, worried, or just unimpressed when GM initiates another tremendous recall—by now it feels like par for the course. And as I wrote in Slate earlier this month, consumers don't seem to be paying much heed to the news: GM's monthly sales in May rose to their highest level since August 2008.

---