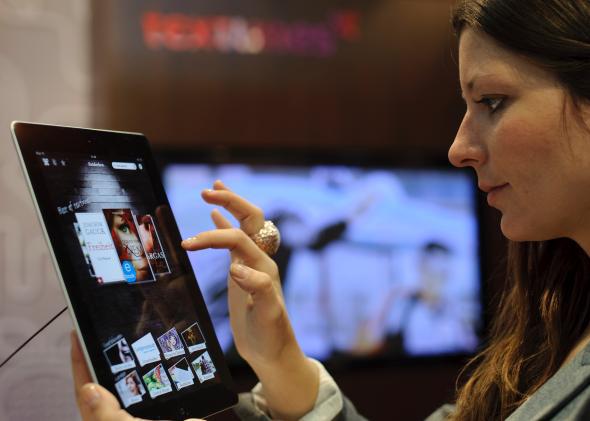 For a nice change of pace, the latest news around e-books is at least not directly related to Amazon's ongoing dispute with Hachette. According to a letter filed with the Southern District of New York on Monday, Apple has reached a settlement with consumers and U.S. states in a civil class action lawsuit over price-fixing for e-books.
The terms of the proposed settlement are sealed and have yet to be approved by the court. But by agreeing to any settlement terms Apple has effectively dodged a trial scheduled for July in which it faced up to $840 million in claims. The class action suit developed after the Justice Department sued Apple and five publishers in April 2012 for colluding to artificially increase e-book prices. The five publishers—Hachette, HarperCollins, Penguin, Macmillan, and Simon & Schuster—agreed to pay more than $166 million to settle those antitrust charges. Apple was also found liable for antitrust violations last July but has chosen to appeal that decision.
Of course this e-book news is still somewhat related to the Amazon-Hachette dispute in that the issue that started all of this litigation—Apple's collusion with the publishing industry—was a direct response by publishers to Amazon. Apple and the publishers joined forces in an attempt to loosen Amazon's vise-like grip on e-book sales (it controlled 80 percent to 90 percent of the market) and to compel it to change its pricing model. Amazon in typical fashion wanted to sell e-books as cheaply as possible, even if that meant taking a loss on each transaction—something publishers feared would not be sustainable in the long run.
The latest settlement between Apple and this group of plaintiffs hinges on the outcome of the company's appeal of last July's antitrust ruling—the decision that found Apple liable to claims made by states that joined the suit. Apple has maintained that it did not violate any antitrust laws. But as the last ruling found that Apple and the publishers shared a common goal of killing Amazon's "wretched" $9.99 price point for e-books, the assertion of innocence might be hard to prove.
---