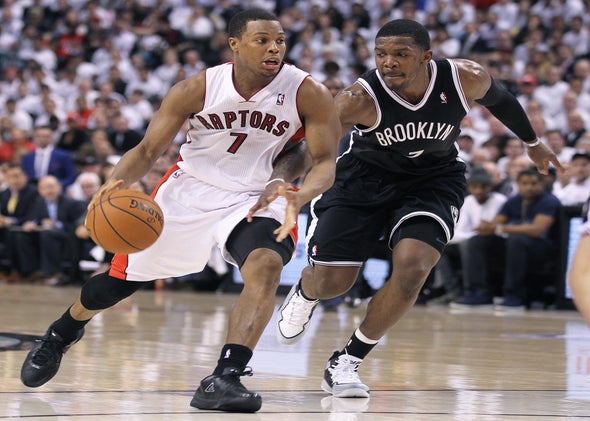 The Brooklyn Nets are facing elimination from the NBA playoffs on Friday night after consecutive losses to the Toronto Raptors. ESPN reports that the Nets' Paul Pierce and Andray Blatche are optimistic the team will pull through and force a decisive Game 7. If the Nets want another tidbit to boost their self-confidence, I suggest they look to a fantasy sports stock market.
As of midafternoon, shares of "Nets to win" stock were trading at 69 on Tradesports.com. That may sound like gibberish, but it's actually a good sign for the Nets, as prices on this platform move between zero and 100 and work just like probabilities. A trade price of 69 indicates that the handful of bettors on Tradesports.com (who have real money at stake) believe the Nets have a 69 percent chance of winning their Friday night matchup.
Tradesports is a sportier and, its founders hope, more legal reincarnation of Intrade, the now-defunct online betting and prediction market. Intrade allowed its users to place bets about news, politics, and world events, among other things, and garnered attention for being roughly as accurate as statistician Nate Silver. It shut down last year after running into regulatory trouble with the U.S. Commodity Futures Trading Commission.
Ron Bernstein, a co-founder of both Tradesports and Intrade, believes that fantasy sports won't be beset by the regulatory pitfalls that took down his previous project. Fantasy games are notably exempt from sports gambling regulations because they are considered "games of skill" rather than pure luck. Tradesports differs from other fantasy sites because it lets participants place their bets and predictions in real time. So the price of "Nets to win," which is 69 at this moment, could plummet toward zero if Brooklyn falls behind late in the fourth quarter, or soar near 100 if they're up 10 points with a minute to go.
To get started on Tradesports, players pick a sporting event or "contest"—such as tonight's Raptors-Nets game—pay an entry fee, and then receive fantasy money to buy and sell shares in prediction contracts, aka stocks, for that event. These contracts can be about anything from overall game outcomes to specific player performances. In tonight's Raptors-Nets game, for example, the stocks include: "Nets to win," "Nets to win by more than 4.5 pts," "Over 191.5 total points scored in game," and "Deron Williams to have more than 7.5 assists."
In each contest, there are preset amounts that players can win. For the Raptors-Nets game, a $2 entry fee starts you with 50,000 fantasy dollars for trading. The person that racks up the most money buying and selling contracts will win $20 (of real money). As the real sporting event progresses, you can see the last trade price and the current volume of each prediction contract. At the moment, Tradesports is still in beta and you need to clear a waiting list to start participating. The site also limits how many people can join each contest, capping entrants in the Raptors-Nets betting to 20.
To ensure that the competition stays skills-based, Tradesports requires that participants trade a minimum of 200 shares in at least three different contracts. By forcing people to diversify their trading choices, the thinking goes, they'll have to bank on more than one outcome, which means luck won't be as big a part of the equation. "Whoever makes the most money trading is the one that wins the contest," Bernstein says. "So it really rewards the skills of the best traders."
In its intense market nerdiness, Tradesports is geared first to finance and trading geeks, and second to sports enthusiasts. On Tradesports, your knowledge of NBA teams and statistics is only as good as your grasp of trading concepts like shorts, and your ability to respond quickly to new market information. Because of that, Bernstein thinks the site is likely to attract data crunchers who will revel in the real-time fluctuations in predictions. If you're just a casual fan and sports watcher, then this may not be the fantasy platform for you.
---