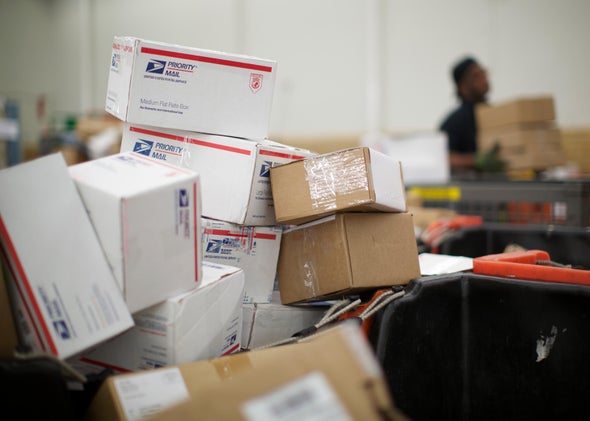 While at the post office the other day, I asked the man assisting me if he had some tape I could put on the edges of my poorly sealed envelope. "That will be 10 cents," he replied, before putting two tiny strips of Scotch tape on my letter.
I've gotten tape on my mail plenty of times before at U.S. post offices and have never once been charged for it, but I guess the USPS is hard-up for cash. On Friday, it posted a loss of $1.9 billion in the second quarter, the same amount it lost during the same period in 2013. Officials said they attempted to cut costs by reducing hours and staff through attrition, but the measures have not been sufficient. The Postal Service has reported a loss for 20 of the past 22 quarters.
More specifically, the volume of first-class mail (the most profitable kind for the Postal Service) declined 4.1 percent in the second quarter, and liabilities of $64 billion soared over the agency's $22 billion in total assets. Shipping and packaging continued to provide a shred of hope, ticking up by 7.3 percent on increased demand for e-commerce deliveries.
Of course, it's no surprise to anyone that the Postal Service is doing poorly, and I probably shouldn't have been affronted by 10 cents for Scotch tape. Then again, even in these dark times, USPS found it in its heart to cut a break to Mother's Day stragglers: Greeting cards at my local branch were $1 off.
---