Pinterest is inching ever closer to joining the 11-digit club. The online scrapbooking site is now valued at $5 billion after raising a new $200 million round of funding. That brings its valuation nearer to that of cloud storage service Dropbox and alternative rental site Airbnb.

The new money comes from SV Angel, Bessemer, Venture Partners, Fidelity, Andreessen Horowitz, FirstMark Capital, and Valiant Capital Partners—all existing investors. Six months earlier, Pinterest secured a $225 million funding round that gave it a $3.8 billion valuation. To date, the company has raised $764 million through six rounds of funding.
This past September, Pinterest announced that it would begin to roll advertising into its platform through "promoted pins." Much like a sponsored tweet on Twitter, these posts are paid for by advertisers and flagged as such. Pinterest pledged to keep the promotions tasteful, transparent, and relevant in an effort not to antagonize users.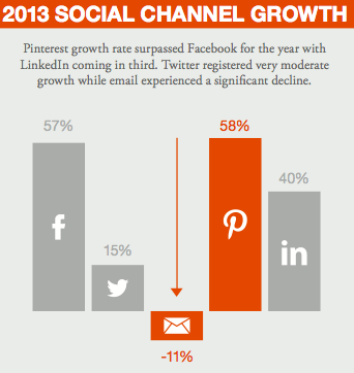 Pinterest has absolutely stellar sharing metrics. Sharing on Pinterest grew 58 percent in 2013—faster than it did on Facebook, Twitter, or LinkedIn—according to social data platform ShareThis. Pinterest beats out email as the third most popular sharing platform overall, accounts for 48 percent of all sharing on tablets, and as New York's Kevin Roose points out, "drives more Internet traffic to publishers than Twitter and Reddit combined."
Pinterest's user base still skews strongly female (80 percent), and those users are fiercely loyal. A recent analysis found that 84 percent of women who use Pinterest are still active in their fourth year. That's an incredible retention metric. Between that figure and Pinterest's soaring sharing statistics, it's no wonder investors are staking a lot more money on the company.