It's no secret that Silicon Valley is built on a gender divide. Various studies have found that, on average, tech companies employ just 12.3 percent female engineers and that only one-quarter of all Americans in computer-related occupations are women. The percentage of women pursuing degrees in computer science has shrunk dramatically since the 1980s and an infinitesimal 0.4 percent of female college freshmen say they intend to major in this field. All this despite the fact that tech jobs are growing rapidly and the industry paid an average annual wage of $93,800 as of 2012—98 percent more than the average wage for the private sector.
To some extent, Silicon Valley's male-female disparity has been written off as a mere image problem. But for a different view, you need look no further than a series of leaked emails from a college-age Evan Spiegel, the now 23-year-old creator of Snapchat, that Valleywag published Wednesday. In the messages, Spiegel details his drug- and alcohol-fueled escapades with his Stanford fraternity brothers and makes frequent vulgar references to women. "[I]'ll roll a blunt for whoever sees the most tits tonight," he writes in one of the milder exchanges. Valleywag's Sam Biddle argues that the Valley is attracted to young rogues precisely like Spiegel. "Silicon Valley worships youthfulness, adores the scofflaw, the pirate, the reckless kid," he writes.
Now, Google has released data on its workforce that illustrate just how stark the gender and diversity problems in tech are. The Internet giant reports that 30 percent of its 46,170 employees are female. Sixty-one percent of employees identify as white and 30 percent as Asian, while just 2 percent are black and 3 percent Hispanic. But those numbers are for the entire company. Within tech jobs, just 17 percent of employees are female. Ninety-four percent are either white or Asian, while just 1 percent are black and 2 percent Hispanic. The only job category that is balanced in terms of gender is "non-tech" (52 percent men, 48 percent women); racial and ethnic disparities are bad across the board.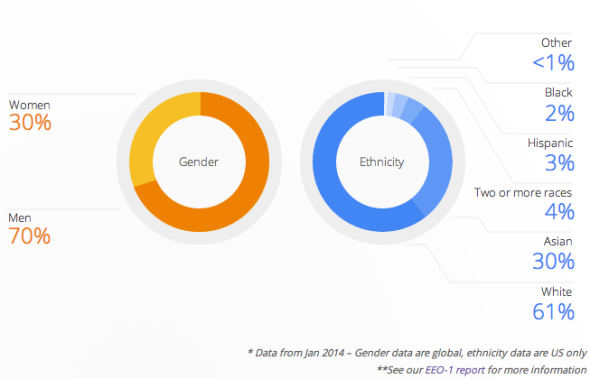 In a blog post addressing the statistics, Google tries to defend its figures by putting them in a broader context. "Women earn roughly 18 percent of all computer science degrees in the United States. Blacks and Hispanics make up under 10 percent of U.S. college grads and collect fewer than 5 percent of degrees in CS majors, respectively," writes Laszlo Bock, Google's senior vice president of people operations. It's a fair point: The systematic education barriers to increasing diversity in tech are great. But that doesn't mean companies like Google can't strive to do better. (Yahoo's Marissa Mayer has been among the prominent female executives to call for more women in tech.) Bock adds that Google is "miles from where we want to be" and wants to be more candid about its diversity issues.

By releasing its own data, Google may put pressure on other tech firms to do the same. Maybe then we can start a real conversation—with concrete statistics and numbers—about fixing Silicon Valley's mentality.